The Hancock-Henderson Quill, Inc.

---
Meet Your Neighbor
By Susan Galbraith, Quill Staff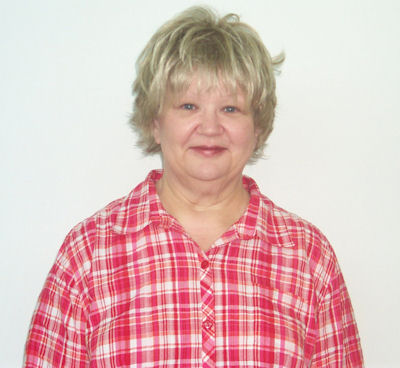 Meet Your Neighbor Sandy Dunbar of Biggsville, raised in Aledo and a graduate of Aledo High School.
Currently, Sandy is employed at the Henderson County Public Library in the accounting/bookkeeping department. Prior to coming to the library, Sandy was a bank officer for 23 years.
In addition to her library position, Sandy is the co-chair of the Henderson County Relay For Life this year.
Being a cancer survivor herself, she said, "I just wanted to get involved, so I went to sit in on a meeting one night and see what it was all about and next thing I knew I was the co-chair."
Sandy is a survivor of Melanoma cancer, which if not caught early is usually fatal.
Her husband noticed an odd looking mole on her back and kept nagging her to go to the doctor.
She couldn't see it so she didn't think to much of it, but Jim just kept pushing until she gave in and went to the doctor.
Thank God he did, it just may have saved her life.
Now she says, "This is my passion, I just want to fight for others. I was fortunate to catch mine early and beat it."
As co-chair, Sandy wears many hats and assists the chair with many jobs. She helps with the fundraising and all the many duties to help ensure a smooth and successful relay. She says, "Come on out and say hello this year, I'm looking forward to seeing all of you."
In 1972 Sandy married her high school sweetheart, Jim, and 37 years later they are still happily married. Jim is currently employed at CNH in Burlington, Iowa.
From this union they have been blessed with two daughters, Stacy Devoss of Viola and Amy Myers of Monmouth. They also have 6 grandchildren.
They have lived in several different places throughout the years. They first started out in the Quad Cities and then moved to New Windsor, in 1988 they moved to Monmouth and then to Oquawka in 2001 and finally to their home in Biggsville in 2005.
In addition to being the co-chair of the Henderson County Relay for Life, Sandy is a member of the Biggsville United Presbyterian Church, and a member of the Henderson County Genealogy Society.
In her spare time Sandy loves to scrap book, research genealogy, and being with family.
One of her favorite memories is of a family trip to Washington, D.C. 40 years ago. It was just two weeks after Robert Kennedy was shot and she said, "the grave was still so fresh." They plan to go back this summer.
---