The Hancock-Henderson Quill, Inc.

---
Men Hailed Heros After Saving Life
by Dessa Rodeffer, Quill Publisher
Two Stronghurst men have been acclaimed as heroes after a life-saving event occurred along the flooded Carman blacktop the 4th of July.
Jerrod Nichols, 33, of Stronghurst relates the story where he, and Bundy were credited in saving 39-year-old Amos Wood of Burlington, Iowa.
It all started around 10 a.m. July 4th, after Seth Bundy, 21, of Stronghurst, stopped by the Nichols home. The two decided to take their four-wheelers and check the water along the Carman blacktop to see if they could get through to the flooded home of Jerrod's in-laws Mike and Dee Dee Whitemore, located south of the Carthage Lake turnoff.
The two drove from the Carman Cemetery and over Ellison Creek before they found water on the road. They puttered along in the water to see how deep it was and we both decided to get on one four-wheeler and see if we could drive through. We could see on the other end where the road was dry.
Ê"I could see this guy walking on the blacktop on the other side," Jerrod said. We watched and it looked as if he was walking in the water on the road holding his back pack. He was a good sized man and I remembered seeing him walking this road many times before.
"I saw him hold his arms out shaking them, twirl around and fall back into the water. He appeared to be backfloating. I thought he was crazy for doing that.
"I continued to watch him floating and once he left the road and started floating into the field, I figured he was in trouble. He was about 350 feet away. I emptied my pockets of my wallet and phone and ran all the way within 20' yelling at him, "Come on. You got to get over here! You got to get over here! Come on!'"
The water in the ditch there would have been over Jerrod's head, and he wasn't sure about the depth in the field.
"I tried to swim but it was too cold and I had too many clothes and shoes, and I was cold and shaking," Jerrod said. I yelled and kept yelling for him to pull his head up. By then, he had floated half way out in the field 50 to 100 yards and I saw him shaking his arms and then I saw his head go below the water and then he went under the water.
Panic and instinct forced Jerrod to throw off his shoes and jump off the road into the ditch, not knowing if there were fences or how deep it was. "I knew now, he was in trouble. I realized after swimming a little that I could touch bottom and I swam and walked but the mud was a foot and half deep and I had to keep moving. I pulled his head out and he was blue. He was dead, and I thought, "He's gone!"
Jerrod said he noticed he was wearing a necklace showing he was diabetic and then realized he must have had a seizure.
He performed "crude" CPR. He had been taught CPR in high school and had seen it on TV, but didn't think he could ever do it, especially in the water.
"I hit him in the chest a couple of times, breathed into him, and didn't think it helped. I just picked him up and bear hugged him, and breathed in, and turned him over and hit him and heard him make gurgling noises.
"I didn't know if he was breathing or if it was the air I blew into him coming back out. If he was alive, I didn't know. I tried to give him two breaths and exhale and then he came to, then he was in and out of consciousness.
Bill Corzatt had come along near the beginning of this when Seth had gone back to Jerrod's 4-wheeler to call 9-1-1, but Bill went ahead and made the call.
So Seth, went out into the water to help his friend Jerrod hold the man's head up. He was about 300 lbs. and Seth was worried about Jerrod as well. The water was really cold.
Jerrod said they were in the cold water for about hour and twenty minutes before a rescue boat arrived to get Amos and them out.
Jerrod watched the MedVac helicopter circle and then land on the blacktop, and the ambulances arrived, but no one came out in the water to help. They were all waiting for the rescue boat.
Jerrod said he was cold before going into the water and by this time he was freezing. They just had on shorts and a tank top.
"I think the hardest part was waiting for the help. I just had to keep moving because I was sinking in the mud. I couldn't move toward the road because the water got up to my chin and I knew in the ditches it was over my head. I just had to stay out there and wait.
"The current didn't seem strong, but it moved us almost to the tree line.
"The best thing, though, is we handed him over fully alive," Jerrod said.
Jerrod had not thought that his own life might be in danger. He just thought he needed help.
Afterwards, Jerrod was taken by ambulance to Carthage hospital where he was treated for hypothermia, as EMTs found his body temperature was dropping to 94 degree F. He was released shortly he said, and glad to be home.
When asked if he would like to be an EMT and help out on the ambulance, Jerrod said, "I don't want to ever have to do that again."
The victim, Amos Wood, had his diebetic essentials in his backpack that he carries with him. He routinely walks or bikes from his home in Burlington, Iowa to Lomax to visit his Grandmother Mildred "Millie" Woods.
We were unable to find out his condition or where he had been taken by Med-Vac.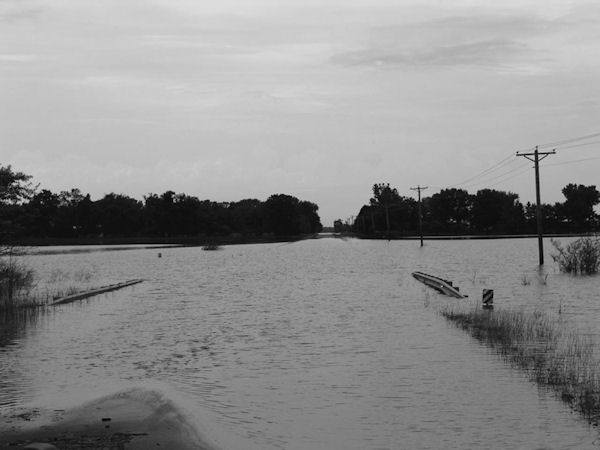 Flood waters, as seen Tuesday evening on the Carman blacktop north of Ellison Creek where two Stronghurst men had saved the life of 39-yr-old Amos Woods, Burlington, IA, on the 4th of July.
---