The Hancock-Henderson Quill, Inc.

---
Spotlight: Hancock County 4th of July Celebration
Hancock County will celebrate the 4th of July with lots of entertainment. Come and enjoy the holiday with family and friends.
This year's schedule will begin at 6:30 a.m. with a Pancake and Sausage Breakfast sponsored by the Women Working Together group. Then at 9:00 a.m., there will be Music by Tom Roush, followed by the parade that begins on Main Street, and encircles three sides of the square turning down Adams Street to pass by Hancock County Nursing Home.
Entries for the parade will need to register at Bilderback/McDonald trucking, located at 1200 East Main. The parade starts at 10:00 a.m., so come early and stay all day.
After the parade, Tom Roush will entertain everyone so if you missed his show before the parade, make sure to stay and catch him after the parade.
At noon, there will be a presentation of colors by the Carthage VFW and American Legion. Immediately following, the Carthage Community Chorus will take the stage.
At 12:30 p.m., there will be a performance by Hypnotist-Cheryl Dudley of the Chicago area. She will captivate everyone with her delightful show. The Talent Team from Center Stage will take the stage at 1:30 p.m., and the children's pedal tractor pull will begin at 2:00 p.m.
In addition, the Carthage Fire Department will fascinate us all with their Water Fight.Throughout the day on the square, there will be craft and food vendors for everyone's enjoyment.
Let's not stop there because at dusk, around 8:30 p.m., at Illini West High School football field on Miller Street, there will be fireworks for all to enjoy and they are FREE.
The July 4th activities have something for everyone to enjoy so come early, don't forget to bring your lawn chair and find a comfortable place to sit, and spend the day on the square.
However, the fun isn't over yet, because on Saturday, July 5th there will be a street dance on the south side of the courtyard square. The gates will open at 7:00 p.m. the cost is only $5. The band "TNT", known for playing classic rock for all ages, will begin at 7:30.
"Between 500 and 700 people have attended past street dances, and this year promises to be just as much fun", says Matt Dickinson, dance committee member.
The fun will continue through the evening until midnight. You must be 21 to enter; there will be Alcoholic and Non-Alcoholic beverages served, with free soda to designated drivers. Food will be available by Sly Fox.
The Hancock County 4th of July celebration will end its festive weekend of fun with a Community Church Service on the Square at 8:00 a.m. on Sunday, July 6th that is sponsored by the Carthage Ministerial Alliance.
For more information, call Dawn Hellyer at 217-357-3024 or Cynthia Huffman at 217-357-6563.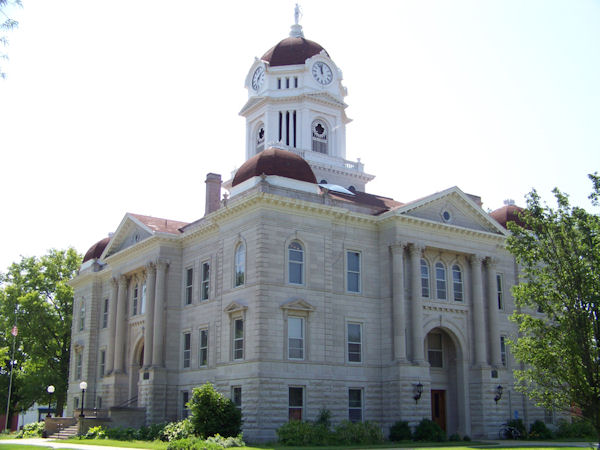 The historic 100 year old courthouse in Carthage is the focus of this year's 4th of July celebration and begins at 6:30 a.m.
---