The Hancock-Henderson Quill, Inc.

---
Meet Your Neighbor
By Misty Huston, The Quill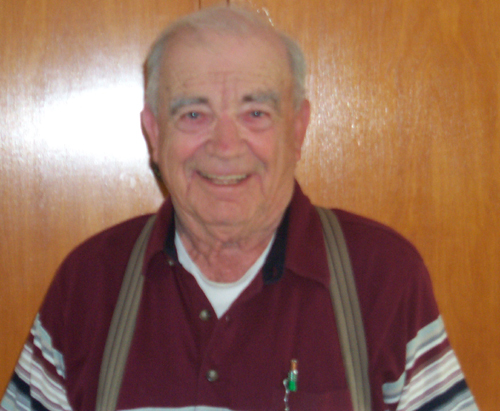 Meet Your Neighbor J. David Hill, born in Kirkwood on August 22, 1926 and raised on a farm in rural Biggsville, in Henderson County.
He graduated from Biggsville High School in 1944.
After graduating he proudly served in the United States Air Force from 1944 until November 1945. One of his most vivid memories of his time in the service, is of V-J (Victory In Japan) night.
He was stationed in New Orleans and had the opportunity to ride around on a boat and celebrate with President Truman all night. He said they ate, drank, watched fireworks and just floated around enjoying celebrating this major victory for our country.
Upon returning from the Air Force he attended Monmouth College, where he earned his Bachelor of Science Degree.
After college he worked for Eastman Kodak in Chicago as a chemist. In 1949 he came back home, to rural Biggsville, and started farming on the family farm. He continued in this profession for 58 years until his retirement in 2007.
He has been a member of the American Legion Post for 62 years. He joined at age 18, as soon as he was old enough to enlist and serve his country.
He has been a member of the Lions Club for over 40 years; a lifelong member of the United Presbyterian Church, on the Henderson County ASC County Committee 10 years, chairman 2; and been involved in construction and "destruction", driving a bulldozer and backhoe.
J. David also played a major part in getting a library for Biggsville. He sold them two lots and donated one for the building site. He also sold all of the lots for the Housing Development.
In 1950 he married Dorothy Anne Welch-Hill, they later divorced. From this union he has two children, Carol Renander and Robert Hill. Carol is a retired nurse who lives in Galesburg and Robert works at Jet Air in Burlington, IA and lives in Biggsville.
In 1987, J. David married Mary Lou Simpson in Nebraska, they reside on the family farm in rural Biggsville, where J. David has lived since 1932.
They have 23 grandchildren and great-grandchildren.
In his spare time J. David enjoys collecting Winchester rifles and Indian artifacts, watching his favorite sports teams, the Chicago Cubs, Chicago Bears and Chicago Bulls, and reading. He says on average he reads two books per week in the winter.
He also loves to see spring arrive, watching the crops and cow herd grow and develop. He says "New calves are real cute-I get sentimental about them these days, as us old men do you know."
One of the biggest changes he has noticed over the years is the way the land is farmed and how prices have sky-rocketed on everything.
As he reminisced about his farming experience he remembered the times the harvest was bountiful and times it was not so good too.
He recalls in 1988, when there was a drought and his corn only made 6 bushel to the acre.
He said after picking an 80 acre corn field he only filled the grain truck one time. He says, "The joke was that I had two pigs in the hopper and they starved to death because I didn't' harvest enough to keep them alive."
Some of his favorite memories are of trips with his family to the Northeast, traveling through Michigan, New York, Vermont, New Hampshire and Maine.
On this journey they were able to see the Von Trapp family home, from the Sound of Music, in the mountains and President Bush's home.
He also recalls a trip a couple of years ago to Alaska.
They started out on a train from Chicago to Seattle, then flew to Vancouver to Fairbanks.
After traveling all of these places J. David still says, "I truly believe this is some of the best country in the world" referring to right here in good old Henderson County.
---