The Hancock-Henderson Quill, Inc.

---
Meet Your Neighbor
By Susan Galbraith, Quill Staff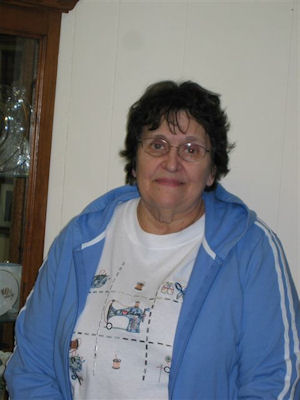 Meet your neighbor Barbara Klossing, who lives in Stronghurst and does alterations at her home along with sitting with her four-month-old granddaughter.
She was born in Macomb and raised in Blandinsville.
Barbara graduated from Blandinsville High School in 1959. Her class was the last to graduate before the move to Sciota/Northwestern. In April of 1960 she received a degree in cosmetology from the Burlington, Iowa, Beauty Academy.
She worked briefly for May Burt, in La Harpe, before her hubby, Lee, was sent to the Army.Lee worked for Fox Appliance and was on the Stronghurst Fire and Ambulance crew before he passed away in 2005.
They have 3 sons; Monte who lives in Raritan and works for D & K Trucking, Boyd (Sue) who live in Burlington, IA. Boyd works for Coke and Sue is a special education teacher at Burlington High School in Burlington Iowa, Tyler (Emily). Tyler works as an assistant manager at Hy-Vee and Emily is a second grade teacher at West Central. They reside in Stronghurst. They have one daughter, Vicki (Mike) who also lives in Burlington, IA.
Vicki is employed by F & M Bank as a bank program manager for kids and does programs in area schools on financing and young folks. Husband, Mike is employed at Millard's. They also live in Burlington, IA.
Barbara likes to do counted cross stitch, likes reading a variety of authors, gardening and working in her flowers.
Barbara is a member of the First Christian Church, in Stronghurst, where she is responsible for the flowers outside in the summer and the poinsettias in the winter.
She also takes care of the Easter lilies, Mother's Day and Father's Day flowers and helps decorate the church.
For five years Barbara worked at Oak Lane Nursing and Rehab but now volunteers her time and is Vice President of the Auxiliary.
She is the proud grandmother of Dylan (9), Camryn (4) Laine (4 months), Danny (8) and Matt (5)
Last fall she was a busy grandmother attending soccer games, of her grandchildren, as the oldest four were on soccer team and played for the Y in Burlington,
---