The Hancock-Henderson Quill, Inc.

---
West Central 34VOICES Receive Grant
A West Central High School student organization seeking to make Highway 34 four lanes from Burlington to Monmouth has won a State of Illinois grant to assist their cause.
The 34Voices group was one of 105 high school organizations across the state to be awarded $2,000 for highway safety programs. The focus of the West Central group is to encourage public support for the need to improve safety on Highway 34 which runs directly past the high school near Biggsville. The students also seek to lobby legislators to support developing the four-lane highway.
The grant is funded by the Illinois Department of Transportation's Division of Traffic Safety and the Allstate Insurance Foundation. Also participating in the grant is the Ford Motor Company's Driving Skills for Life program.
West Central had a jump start on the project this past fall with a large rally held on the school lawn when the student council presented over 600 student letters to their state legislators. Students were inspired to begin this campaign after a fatality occurred immediately west of the high school campus in May of 2007.
The student body chose the name 34VOICES which brings together the number of the highway they are seeking to improve and an acronym of "Voicing Our Interest Concerning Everyone's Safety."
Students are currently working on a logo for the organization, a Springfield lobbying trip, additional fundraisers, a community highway development petition drive, additional contacts with Illinois legislators, and a safe-driving initiative for all students.
Last year more than 5,000 teenagers in the United States lost their lives in traffic crashes. While teenage drivers in Illinois make up 7 percent of drivers, they are involved in 20 percent of motor vehicle-related fatalities and severe injuries.
The Illinois Department of Transportation created this grant program to develop and implement effective measures to combat teen driving problems in the state. The West Central 34VOICES group identified the high traffic volumes on the current two-lane highway to be a significant issue related to driving safety for the students of the school.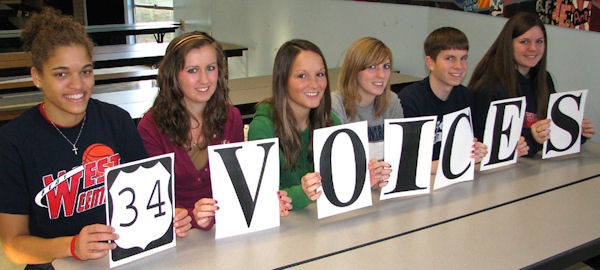 West Central student officers of the 34VOICES organization meeting to discuss the award of State of Illinois funds to support their project to support widening US Highway 34 to four lanes from Burlington, IA, to Monmouth, IL.
From left: Miriam Rutzen and Julianna Gillam, co-chairpersons; Amanda Clark, Vice President; Torri Gray, Secretary; Justin Allaman, Treasurer; Lauren Gerst, Historian.
---