The Hancock-Henderson Quill, Inc.

---
Jail Ministry Noted With Presidential Award
-by Diane Spilker-The Quill Staff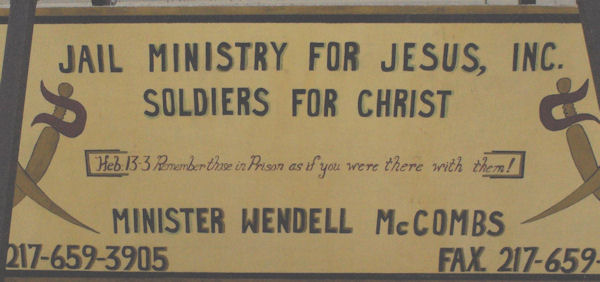 Jail Ministry for Jesus (JMJ), co-founded in 2002, is a non-profit interdenominational organization benefiting the "lost world of the incarcerated and their families". Co-founders are Pastor Wendell and Rev. Denette McCombs of La Harpe.
The organization specializes in serving county jails and prisons through ministry, training and licensing people.
It currently serves a tri-state area of Illinois, Iowa and Missouri with 23 licensed ministers. Locally, they are serving 11 facilities: Illinois State Prisons, State Prison Work Camps, Youth Detention Centers, Halfway Houses and County Jails.
All members of the organization are volunteers and receive no income from the organization.
According to Pastor Wendell McCombs, "They are operating as a 501C3 interdenominational para church."
Currently, they are in negotiations for a new JMJ Office to be opened in Davenport, IA.
The Illinois Regional Office Manager is Judy Baldner and is located in La Harpe. The organization recently received a presidential accommodation from President Bush for "reaching out to the community through serving others in need" in August of 2007.
The organization has made lots of strides in the ministry field including the opening of a new training center, new branch office and a new program entitled "Led New".
They are in the opening process of a new training center and branch office in Mendon. The training center is only one-half of a building donated to the organization by a private citizen for the works of Christ.
The major component of this building will be the "Led New Community Outreach Program", led by President Rev. Denette McCombs of La Harpe and Vice President Donna Wittich of Carthage.
This program will minister to the families left behind by those incarcerated. Through the program, families of prisoners can receive food, products (such as medical supplies and tools), household items, office supplies, school supplies and craft supplies.
This program will have over $30,000 worth of materials to start its inventory with when the program opens in June of 2008. They can also obtain information about area community service organizations, such as churches, food pantries and health departments. Hospitality churches will also be assigned to each family for spiritual needs and contact information. The main focus of the "Led New" program is "a hand up, not a hand out".
The training center will supply local church pastors and other individuals to train released inmates and their families in areas such as job interviews, job applications, resumes, driver's license renewal, GED courses, basic living skills and even religious classes to become licensed ministers. Also, as part of the training program, there will be Bible study classes weekly.
Currently, the organization is hosting a "Grandma Ruby and Uncle Charlie" program that writes anonymous letters to inmates in need of communication with the outside world. The inmates write to the JMJ organization and letters are distributed to the volunteers, who write to the inmate as "Grandma Ruby or Uncle Charlie". This service is completely anonymous and safe.
The JMJ organization is also in the process of filing papers with the State of Illinois for international recognition. Currently, they are shipping Biblical materials to people in Zambaway Africa, Phillipine Islands and Argentina.
Pastor Wendell and Rev. Denette McCombs are honored "that the Lord choose them to help churches and pastors fulfill the "Great Commission' because without God, there is nothing". The "Great Commission" is described in Matthew 28:19 as "Go ye therefore, and teach all nations, baptizing them in the name of the Father, and of the Son, and of the Holy Ghost". The motto for JMJ Ministries is Hebrews 13:3, which states "Remember them that are in bounds, as bound with them; and them which suffer adversity, as being yourselves also in the body". Simply put, "they are proclaiming God's word to the lost and incarcerated".
The JMJ staff requests the community to please be in prayer for their financial needs and that of the new facility being opened and also extends an invitation to anyone wishing to help out the organization by volunteering their time or becoming a pen pal through their "Grandma Ruby/Uncle Charlie" program.
For more information about any of the programs or a volunteer position, please call 309-333-7407 or 217-659-3905 (leave message).
---