The Hancock-Henderson Quill, Inc.

---
Varsity Girls Heat Disengage Chargers
Capture 18th Win; Move to 1st in AP polls
by Dessa Rodeffer Quill Publisher/Owner
Coach Brad Jackson and the West Central Varsity girls basketball team continue their winning ways, this time in a tight match against a larger 2-A school, the Illini West Chargers of Carthage.
The two teams surely put away the myth that girls high school basketball is boring. Nothing is further from the truth, especially when teams like the Heat and the Chargers unite.
The win was signficant enough to pull the Heat into 1st place in the state, passing Brimfield.
A full house gathered Saturday afternoon, inside the Heat high school gymnasium near Biggsville where the Heat pushed through a tough second and third quarter to outscore the Chargers 73-61.
Illini West's newly converged schools of Dallas City, La Harpe, and Carthage with Head Coach Zach Keene and Assistant Coaches Zac Royer and Sci Hickinbottom brought to the West Central Heat gymnasium, a determined group of competitive lady Chargers, ready to show the Heat their serious game of basketball.
Heat Head Coach Brad Jackson, kept a controlled hand on his team as they battled through some tough segments of play, and guided them to a 12 point win.
In the first quarter, Charger Mackenzie Carroll #2 tossed in 8 points, Randi Gronewold #15 (MVP of the Lady Tiger Classic) added 6 points, Nicole Junk #1 added 3 as did 9th grader Kelly Ard #23 to round out the 1st quarter Charger score of 20.
In response to their 20, the Heat added 25 from the 3 of 4 scorers for the evening.
Senior Rachele Jack led the first quarter scoring with 11 points and missing her two free throws. Juniors Miriam Rutzen added 8, including her two free throws, and Ashley Coffey added 6, including her two free throws.
In the second quarter and third quarters, the Heat felt the pressure increase by the Chargers.
In the second, the Heat was held to 12 points with Jack only making two points. Coffey added 5, one of them a free throw, and Rutzen was held to one 2 point basket and made one of three free throws. Ashli Burg added a two-point shot.
In the same 2nd quarter, the Chargers added 13 points with Carroll adding a 2 pointer and 1 free throw, Junk adding 2, R. Gronewold adding 4, and Danielle Gronewold added 4.
The halftime break left the Heat at 37 and the Chargers at 33, for a 4 point home advantage.
When Coach Keene brought his Chargers back on court, they were fully charged outscoring the Heat 17 to 14, and tying the game or pulling ahead getting the Heat fans fired up. The Chargers committed several fouls forcing the Heat to the charity strip 5 times. The Heat held their fouls to two.
The Heat's high scorer, Miriam Rutzen made all 4 of her free throws plus added 4 points, while Coffey added one free throw of 4 attempts, and Jack added one of two free throws plus 4 points to round out the scoring for the Heat's 14 points in the 3rd quarter.
In the same quarter, the Chargers' Carroll added 2, D. Gronewold added 5 and two missed free throws, R. Gronewold added two, Amy Byers added 5 points, and Jaclyn Duffy made one of her two free throws to give the Illini West Chargers their 17 points.
Coach Jackson huddled his West Central girls to fire up the Heat for the final quarter.
"I told them to play better defense and moved up the press and made some subtle changes, and I cautioned them to be careful," Jackson said.
The girls responded with 22 points only committing one foul compared to the Chargers 11 points and three fouls. The Heat gained 5 points out of their six free shots and took the hard-fought win 73-61.
In the 4th quarter, the Heat scoring came from Jack with a 3-pointer, Coffey with 12, and Rutzen with 7, 3 from free throws.
Ashley Coffey was high scorer for any one quarter with 12 points in the 4th, while Miriam Rutzen led all scores with 26, Coffey with 24, and Jack with 21.
Illini West Chargers saw Randi Gronewold with 18, Mackenzie Carroll with 16, and Danielle Gronewold with 11 in double figures.
Coach Jackson said his major thrust was to keep up the tempo and push, much as he has done in past teams.
He has coached basketball for 17 years starting at Westmer, his alma mater, then moving to Alwood where he took a team that he says played much like "The Heat" to second in the state, and another to the quarter finals.
"The teams play a lot the same," he said, having his eye on returning to the state arena. And ranking first in the state and first in the conference plus sporting a 19-3 over-all record gives Coach Jackson a lot of hope.
After the game Saturday, players and coaches congratulated each other as both top-notched teams showed their best before, during, and after the ball game.
With a bye on Saturday, the Heat headed into the Lincoln Trail Tournament at Annawan Monday which runs through Saturday, and beat Stark County, a team they had defeated 57-36 on January 7th.
They play Annawan Thursday, Jan. 17 at 7:30, who defeated Princeville, and championship games are on Saturday.
West Central isn't scheduled to play Annawan in conference play until January 21st at Annawan.
Then, West Central will play Galva Thursday, Jan. 24th at home for their Senior Night. They continue play at UNITED on the 28th, and at ROWVA on the 30th before Regional begins in February.
West Central Heat Lincoln Trail Conference games thus far are (7-0):
WC def. Westmer 89-28
WC def. Princeville 99-60
WC def. Cambridge 79-43
WC def. Weathersfield 95-78
WC def. AlWood 91-20
WC def. Stark Co. 57-36
WC def. Aledo 86-27
Final games
West Central at Annawan Jan. 21
West Central vs. Galva Jan. 24 (SENIOR NIGHT)
West Central at. United Jan. 28
West Central at ROWVA Jan. 30.
The Illini West Chargers held a 11-6 record after their loss to the Heat and were to play Bushnell/Prairie City Monday, and West Hancock on Thursday (SENIOR NIGHT). They play at Jacksonville for the KHQA/Subway Shootout followed by the games to state:
Regional February 4-8,
Sectional Feb. 11-14,
Super Sectional Feb. 18,
State Finals Feb. 22-23.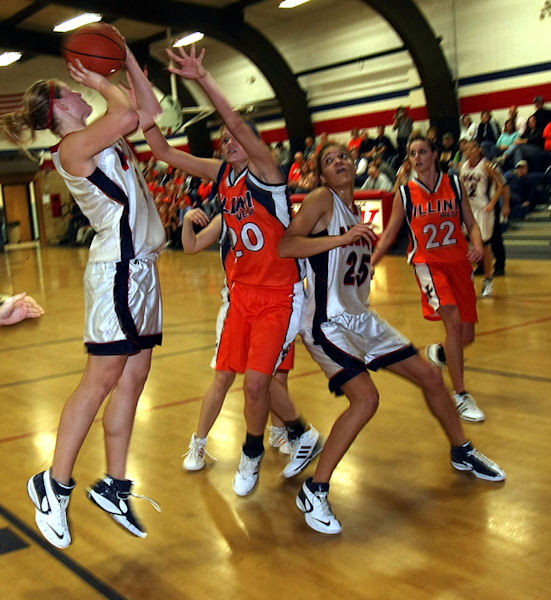 Charger Randi Gronewold-20 of Illini West attempts a blocked shot of Heat Ashley Coffey-5 during, as Miriam Rutzen-25 is ready to assist an exciting afternoon of girls basketball. Charger Amy Byers-22 also in play for the Chargers.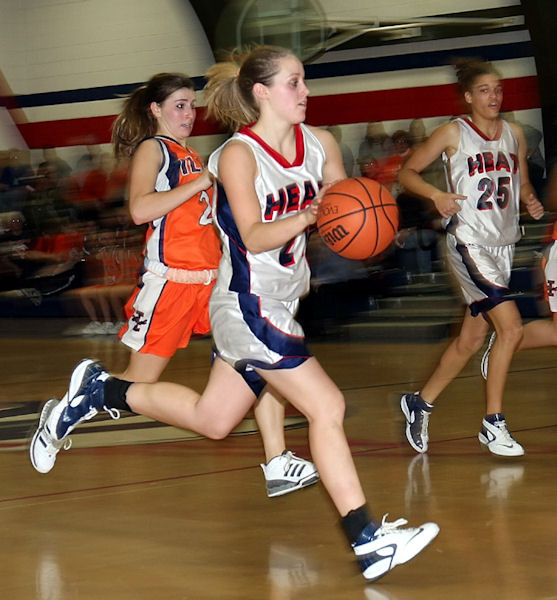 The Heat moved by the Chargers for a win Saturday and moved up to 1st place in the state in the AP state polls this week.
---