The Hancock-Henderson Quill, Inc.

---
Meet Your Neighbor
By Susan Galbraith, Quill Staff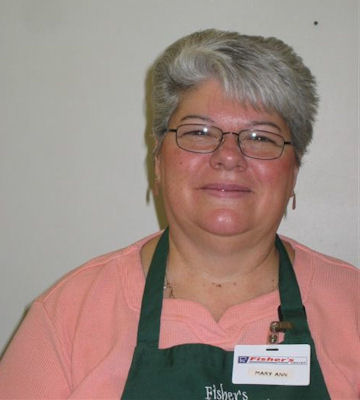 Meet Your Neighbor Mary Ann Cole, a full-time employee at Fisher's Food Center in Oquawka.
Mary Ann is a resident of Oquawka and lives on Park Road.
She was born in Monmouth and raised in the surrounding area.
In 1969 she was a senior at Monmouth High School and later received her GED, then attended Carl Sandburg College in Galesburg.
She has two sons, Frank (Gena) of Kirkwood, and Carl (Nicole) of Galesburg, and 6 grandchildren, Nathan (16), Jason (15), Kale (10), Summer (9), Eric (10), and Travis (2) and is anxiously awaiting the arrival of another grandson in March.
Mary Ann loves cooking and singing at The River of Life Church, in Monmouth, where she now attends. She enjoys the fellowship at the church while helping out with dinners.
Her hobbies are shopping, reading, walking outside, and this time of year riding her stationary bike. She likes making fudge, which she has been doing a lot of recently.
A vivid vacation memory of hers was when she, at 16, and her brother went to Florida to visit an aunt and uncle who had just built a new home in Crystal River.
She and her brother were riding in the back of her aunt and uncle's pickup when her uncle stopped to buy newspapers to have her and her brother put over their legs so they would not get sunburned, but as a result she ended up with second degree burns and had to be treated at a hospital.
What a way to end a memorable vacation.
---