The Hancock-Henderson Quill, Inc.

---
Santa Claus Came to Town, A Few Days Early
-by Diane Spilker Quill Staff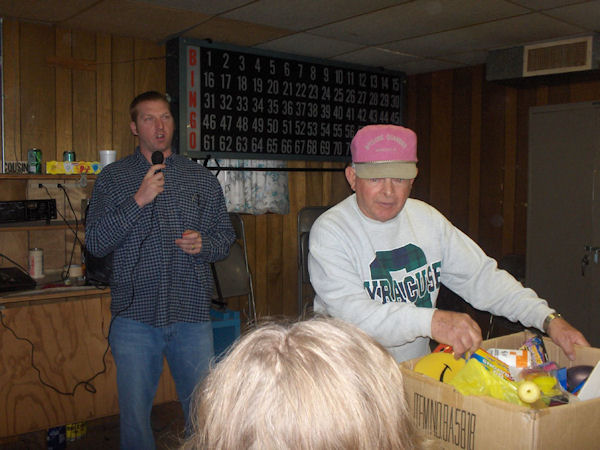 Santa Claus came to town, a few days early, to visit with the kids from the Lomax area Saturday December 22, 2007 at the Lomax Youth Center.
Santa arrived around 10 a.m. with lots of candy and prizes for all the kids. No child left Santa's lap without a bag of candy and a prize to take home.
The adults did not get left out, either, that Saturday morning-over 50 turkeys were given out to those present and 8 gift certificates totaling $25 each to Wal Mart.
Sponsored by the Lomax Haunted House Boys, this event was from 10 a.m. to 12 p.m. and provided food, fun and prizes to over 100 kids from the Lomax, Dallas City and La Harpe areas.
Chairperson for the event was Jim Farquhar and helping out this year was Ronnie Lee Walker on the microphone.
According to Cailee Fye (pictured above in top right corner), four year daughter of Shelly Fye from La Harpe, she enjoyed talking to Santa Claus, eating hot-dogs and drinking a soda while playing with her prizes. Cailee told Santa all she wanted was "a baby doll and a Barbie". She also told him "that she had been very good this year".
Other kids of all ages were on hand to greet Santa, fill his head with lots of wishes and to have a great time in a safe environment.
---