The Hancock-Henderson Quill, Inc.

---
Meet Your Neighbors
by Diane Spilker, The Quill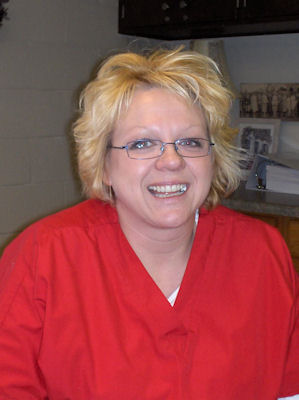 Meet Your Neighbor Shellie Blunt,╩a new╩employee at La Harpe Davier Care Center.╩ Shellie was hired two weeks ago as the╩Director of Nurses for the facility.╩
Shellie was born in Des Moines, Iowa on February 2, 1972 to Steve and Debbie Blunt.╩
She spent a lot of summers growing up with her Grandfather, Dick Blunt in Augusta and later lived with him temporarily.╩Later in life, she resided in Colchester as she began her╩family.╩
She has two sisters Alice Scherk of Mt Sterling and Angie Blunt of Des Moines, Iowa.╩
Shellie currently resides in Carthage with her three children. Having four children total, Seth, age 18 lives in Colchester and is making her a grandmother in about 7 months.╩The other three children Stefan, age 16, Sawyer, age 14 and Karley, age 7 live with her in Carthage.╩
She attended╩college at Blessing Rieman and Quincy University under a joint venture to complete her Bachelors of Science in Nursing in 2006. She formerly worked for Great River Medical Center in Burlington, Iowa in the nursing department╩and is currently working part-time for Memorial Hospital in Carthage as a nurse on the weekends, in conjunction with her DON position.╩
In her spare time, she loves╩supporting her children as they╩play sports, football, dance and basketball.
If not watching her kids play sports, she is watching her favorite team play on television, the Chicago Cubs and the Green Bay Packers.
She is also a member of Argyle Bible Church in Colchester, when she able to attend (due to her hectic work schedule).
---