The Hancock-Henderson Quill, Inc.

---
West Central Girls Upset In Sectional Championship
The #1 ranked West Central girls basketball team were upset by Brimfield 49-44 last Thursday night at ROWVA High School in Oneida.
West Central started out slow and trailed midway through the first quarter 2-8. West Central pulled to within 1 at 9-10 after a Rachele Jack 3 pointer, 2 free throws by Ashley Coffey, and a steal and lay-up by Miriam Rutzen. Brimfield hit a bucket to end the first quarter to go ahead 12-9.
Rachele Jack opened up the second quarter with a 3 pointer to tie at 12-12. Brimfield added a bucket and one of two free throws for a 15-12 halftime score. The second quarter saw Brimfield go into a controlled stall to slow the game down.
West Central stepped up the game in the third quarter. A Rutzen steal led to a Jack lay-up. Two free throws by Rutzen gave West Central their first lead 16-15 since a 2-0 lead. A Coffey block led to a bucket by Abby Corzatt. Rutzen knocked the ball loose which led to a lay-up by Rutzen for an 8-0 run and 20-15 lead.
West Central stretched their lead to 28-21 with back to back buckets by Rutzen and Jack. After 2 Brimfield free throws, Rutzen buried two free throws for a 31-23 lead with 1:15 left in the third quarter. Brimfield hit a bucket at the end of the quarter for a 31-25 score after three.
Brimfield hit two free throws after two missed West Central free throws. Brimfield hit a bucket, then a 3-pointer to take a 32-31 lead with just one minute into the fourth quarter. Rutzen hit a bucket to take a 33-32 West Central lead.
But three Brimfield buckets and a couple of traveling calls on West Central and Brimfield was back on top 38-33. Sarah Heller hit two free throws to pull within 38-35 at 3:27 left.
Play was then suspended because of a wet floor from condensation. Players were sent to the locker room and several fans were brought out to dry the floor off. Thirty minutes later the game resumed.
After Brimfield made one of two free throws Rutzen hit a bucket to pull within two at 38-37. But Brimfield went into a stall forcing West Central to foul. Brimfield hit four free throws, then Rutzen hit two free throws. Brimfield hit two of four free throws and with 50 seconds left Coffey hit a three pointer to pull within three at 42-45.
Brimfield added four of six more free throws as West Central continued to struggle to make a bucket. Rutzen added a bucket as time expired for the final 48-44 score.
For West Central Rutzen finished with 22 points, Jack had 12 points, Coffey had 6 points, Heller and Corzatt each had 2 points.
West Central finished their season at 28-4.
The #4 ranked Brimfield improved to 28-4 and move on to the Jacksonville Supersectional.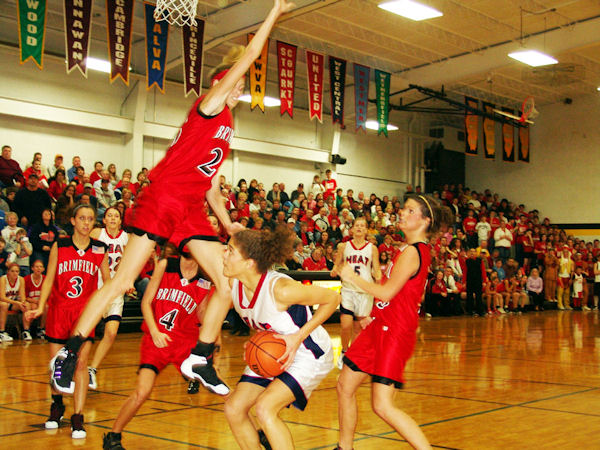 Miriam Rutzen has Brimfield girls up in the air as she prepares to take a shot
---