The Hancock-Henderson Quill, Inc.

---
Meet Your Neighbor
By Susan Galbraith, Quill Staff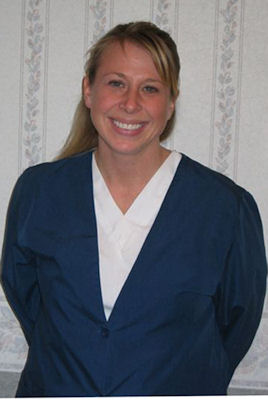 Meet Your Neighbor Holli Hansen, the new part-time, dental hygienist at Good Dental Care.
She was born and raised in Whitefish, Montana.
Holli graduated from Whitefish High School in 1992 and from the Dental Hygienist program at Carl Sandburg College in May of 2007.
She lives in Aledo with her daughter, Madelyn, (8) who is a student at Apollo Elementary School in Aledo.
Her parents are Rob and Patti Allen of Whitefish. Rob is a college instructor at Flathead Community College, and her mom, Patti, is a homemaker.
She has one brother, Brady, who works for an oil drilling company.
Holli enjoys, spending time with Madelyn, her family and friends, reading, playing golf when the weather permits, movies and shopping.
Her traveling time is usually spent going back home, to family in Montana. This past summer she and Madelynn spent three weeks in Montana visiting family and friends, just having fun, and enjoying the time together where Holli grew up.
She is a member of the Methodist Church in Aledo where she is a Sunday school teacher. She also helps with dinner, on Wednesday nights, for Bible study.
Holli is also a member of the Kiwanis Club.
A memorable trip was when the whole family went to Vero Beach, Florida, six years ago. They walked on the beach, picked up sea shells, visited Disneyworld and enjoyed the time together as family making special memories.
---