The Hancock-Henderson Quill, Inc.

---
Highway Family Restaurant Hosts Grand Opening
by Dessa Rodeffer, Quill Publisher/Owner
Many from the area as far as Quincy, came to La Harpe Monday morning (Dec. 29) to the Grand Opening of the La Harpe Highway Family Restaurant at 201 East Main Street in La Harpe.
Jimmy Isaj, new owner/manager, celebrated the day by offering free pancakes and coffee to all who came between 6 and 11 a.m.
Patrons were pleased to find big fluffy delicious cakes and fresh hot coffee along with a brand new menu.
Jimmy has 20 years of cooking experience in his home of Wisconsin, and in Illinois towns of nearby Lewistown and Bushnell.
His specialty is his home style cooking which includes his daily specials of soups, lunch and dinner items.
His new menu has a wide-array of choices from a full page of delicious breakfast items including "Skillets", "French Toast", "Incredible Omelets", "Pancakes" and a variety of egg, potato, meat and toast combos.
The new menu also has a full page of popular sandwiches, salads and Lunch items, as well as a full page of Dinner items. It features everything from seafood, meats, and "Horseshoe meals" to delicious pasta, stir-fry, and the new Potato Bowl meals.
The Potato Bowls are a whole meal in themselves. They come in either tender sliced roast beef, roast pork, or in turkey breast or chicken breast.
Jimmy starts with a layer of fresh homemade mashed potatoes, then adds a layer of tender corn, shredded cheese, and then your choice of mouth watering poultry or beef gravy, topped with your choice of juicy tender meat.
Each "Potato Bowl" is served with a cup of soup or salad, along with a roll and a dessert.
For a $1.50 less, Jimmy offers a senior citizen portion if you are 55 or older.
In fact, they offer a special page menu with reduced prices just for Seniors. Dinners are priced to include dinner and desserts.
In keeping in tune with the original "Tastee Freez" restaurant Jimmy still serves soft-serve and regular ice cream which includes sundaes and shakes.
There is a lot to choose from on his menu, but Jimmy says, "If you don't see something you want - ask - and I will prepare it for you, if I can."
The restaurant is open 7 days a week from 6 a.m. until 8 p.m. and Jimmy plans to expand the time to 9 p.m. in the summer.
Jimmy is living around La Harpe to keep the restaurant open 14 hours a day and he appreciates everyone coming in and enjoys the friendly people of La Harpe.
For now, his wife and two children remain in Wisconsin as his two children are attending high school.
His son is a Sophomore and plays soccer, and his daughter, a senior, will graduate from high school this May.
Jimmy Isaj (pronounced au-si ) displays a Greek salad and one of his many piping hot fluffy pancakes he served this past Monday at the La Harpe Highway Family Restaurant Grand Opening.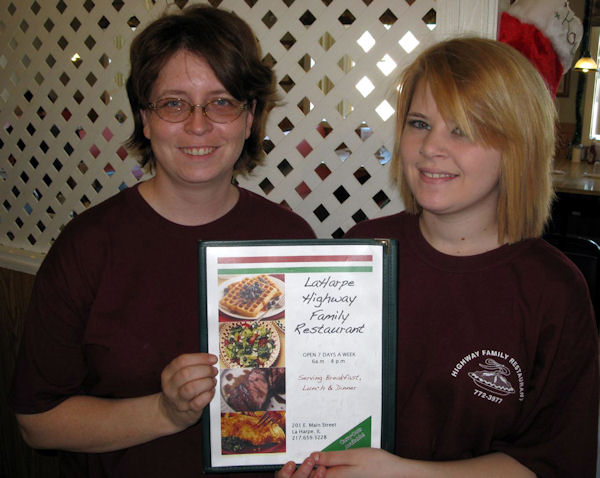 From left, waitresses Allie McHeart and Amber Snyder display the new La Harpe Highway Family Restaurant's new larger menu. If you can't find it on the menu, just ask.
---