The Hancock-Henderson Quill, Inc.

---
Rutzen Commits To Harvard University
West Central's Rutzen To Play Division I Basketball
by Dessa Rodeffer, Quill Publisher/Owner
Miriam Rutzen's dream to play Division I basketball has now come true after her recent selection and commitment to the Harvard girls basketball program in Boston, MA.
Rutzen will be the first West Central graduate to have attended the exclusive ivy league school.
Since Junior High, Rutzen's goals were to play basketball at a Division I Level but her ability to accomplish those goals is due first and foremost to her belief in Jesus and her desire to bring glory and honor to Him.
"My desire has always been to excel in whatever I've been given, and to do my best to honor Him," Rutzen explained in an interview Monday at her high school.
Rutzen's parents Doug and Anita of rural Blandinsville, both have pretty high educations and Rutzen credits the family's expectation of doing their best as the second reason she is able to fulfill her dream.
"Slacking off and only giving half the effort is like showing you have no pride in yourself and in who you stand for," she said. "My mom always says, "Remember who you belong to.'"
Thirdly, Rutzen said along the way she has had the blessing of having some pretty amazing coaches, teachers, and community members who have encouraged her and the camaraderie of friends who try just as hard.
She has enjoyed the competition of who is going to get the best on the test, from quizzes to the A.C.T. to games. It's a constant way of life (pushing yourself).
Rutzen said she was off to a great start at Southern and credits her first grade teacher and second grade teacher for that.
"Mrs. Ragar and Mrs. Brent instilled in me these same values," she said.
"Mrs. Ragar taught me to keep a positive outlook to do my best, and Mrs. Brent taught me to challenge myself and not just settle, ever!"
Rutzen says these are what has helped her all through life, "Like when I go to Harvard, as scary as it may be, I am not just going to settle just to pass, but work to excel."
Rutzen admitted she was petrified about what lies ahead.
The Harvard bound Rutzen admitted, her sure-footedness had a bit of a down spiral for a week after their recent loss at the Alwood Tournament with Knoxville. Rutzen was held to two points the entire game and they lost by 2 points.
"After that game I really struggled. Two points was the least I had since 3rd grade. There was so much pressure - I asked myself why? - What's the point? - I really struggled with all that."
Rutzen's grandfather had died the day before her October 29th birthday, and the Knoxville game followed 2 1/2 weeks later. Grandparents help bring that stability, she said. The timing of the loss and the the low scoring game was the last straw.
"That game cumulated all that was going on in my life," she said.
Rutzen said many came to her that were concerned, and with the help of family and friends and seeking out a few adults who's judgement she trusted, she was able to have a couple of heart to heart talks and work through her struggles.
Rutzen uses a motto, a verse from the Bible that is inscribed on a piece of jewelry she wears:
"I can do all things with Christ Who strengthens me."
-Philippians 4:13
She says, the verse does not only apply when you are at the top, but also when you are at the bottom or fallen and you are half way up.
"I remind myself that I am here for a purpose and by trying my hardest and giving my all - maybe I can make a difference."
Miriam was able to face the next game against Quincy Notre Dame where they again lost but said, "I realized as much as I love to win and set an example, I am also setting an example when I lose, too, when I shake the girls' hands from the other team and give a hug if I know them.
It was a great game and I saw my reaction - my attitude - was the most important thing. I can lose and still have a great year.
"You can lose, but you don't have to be defeated," Miriam explained
After getting her attitude back on the right track, Rutzen and the team returned and beat the 2A state champs West Hancock (Hamilton, Dallas City, Warsaw) on Monday night on the West Central Heat's home floor handing them their first loss (2-1) to the Heat's 4-2 record.
Rutzen's college selection process began the Spring of her Junior year. The NCAA rules allows college coaches to call their recruits so she began to get phone calls. Until that, they can only send questionnaires.
She developed a system to help her work through all the many colleges and letters she had received.
She made a list of 40 schools she was willing to consider. and she chopped that down to twenty putting them on a chart with five major categories she would rate them in: Academics, Team, Coaches, Basketball Program, Community.
"We visited 17 Division I colleges this summer on unofficial visits. Your top five will offer to pay you to come out on an official visit where you stay with the girls, scrimmage with them, you can go to a class and meet different professors and coaches."
Rutzen had finally narrowed it down where she accepted three official invitations -North Dakota State, Air Force Academy in Colorado Springs, CO, and Harvard in Boston, Massachusetts.
Miriam said she found that the town's folk are pumped about girls basketball in North Dakota and already had heard of her and knew she was considering their school, which was a plus.
They have a new head coach this year and Miriam said it really was a neat place.
"Their first snow storm this winter brought 40 inches of snow and it made me think, but I had already made my decision," Rutzen said.
Visiting the Air Force Academy was quite exciting for Rutzen and her mother she said. The Associate head coach, Lisa Robinson is a twin, born and raised in Annawan, here in the Heat's conference and she knew everyone I knew here at home.
But Miriam said, "You can't pick a college based on one person.
In some stuff Rutzen said she could see herself being there, but there was other stuff she just could not see herself doing.
The visit was pretty memorable and fun she admitted.
"I got to play in a quarter million dollar simulator as a copilot"
She also attended the Air Force vs. Navy football game and saw a Stealth bomber fly over .
"They were having a war meeting there with all the Generals from the Air Force and Navy and we and the coaches had passes to go out on the field with them.
These are the top Generals in the entire Air Force and one came over and visited.
Miriam was able to meet a 3 star General who attends all the football games along with his wife. His wife asked one of the girls if Miriam had committed yet, and said she needs too. She took off her "spirit" beads for the girl to give to Miriam. Others on the girls team said they had never even gotten to talk to her or had been noticed. Miriam is keeping those beads as a treasure.
"There were some things I could not see myself doing, and it is a huge commitment," Miriam said, "and if you are not up to it, I could not see myself going."
Three other prospects were visiting, she said, - 1 committed before she came, one committed on her first day, and the 3rd before the football game.
"There is a lot of pressure to commit. Mom and I prayed a lot about what I should do."
Miriam's Harvard visit was actually in between North Dakota and the Air Force Academy. There were no Generals, no Stealth bombers, but it was Harvard. You need say nothing more.
At Boston's Logan airport, Miriam sat next to a lady who spoke German, Italian, English, and was learning Spanish. She and her husband were going to manage a ski resort in Northern Italy.
This is only one story, Miriam said, but at Harvard there will be millions of stories like that. Harvard is Harvard. You don't have to say anymore as far as academics. Also, their girl's basketball team is good and has earned numerous Ivy League titles.
When you think that Harvard only accepts 6% of their applicants, you realize how fortunate you are to have this opportunity.
Harvard is also a $50,000 a year school, and Ivy League schools do not give out scholarships except for need through financial aid. For Miriam, the school will cost her $5,000 vs. the $50,000.
In narrowing her options, after her final visit to Colorado October 6th, Miriam had her answer by October 15th, Harvard was the school. It met her main criteria where academics comes first:
#1. A school that will give you the best education possible
#2. A school that has a winning tradition in basketball - a win loss record combined with attitude on and off the court.
#3. The feeling that the team was a family that I wanted to be a part of. First from coaches and their expectation, their attitude and their outlook on life..... you can get a lot from that.
Miriam had taken her five major categories of Academic, Team, Coaches, Basketball program, Community and broke each down into five subcategories. Then she rated them with her own method of scoring.
"To make it a tangible thing to look at, I stickified it with stickers," she laughed. "For instance, under scholarships I would put a big smiley face if they offered money, or sad face if they didn't.
"Some coaches could not wait and filled their positions such as the University of Minnesota, and Illinois State, so I pulled those schools off the chart. Then I gave stars, a blue star was excellent and scored 1 point, then red, then green, and finally gold which was rotten.
"I score it like golf, low number wins."
Miriam's parents are Doug and Anita Rutzen of RR1 Box 41A, Blandinsville, IL 61420. They attend the Grace Bible Church, in Monmouth. She has one brother David Rutzen who they lost in a car accident her Freshman year.
Miriam will leave Labor Day weekend for Harvard in Boston, MA.
She leaves these thoughts for others to follow:
"Respect those who have brought you where you are and show your appreciation and be thankful. So much of it is attitude. Don't settle, have fun, enjoy and live life to the fullest."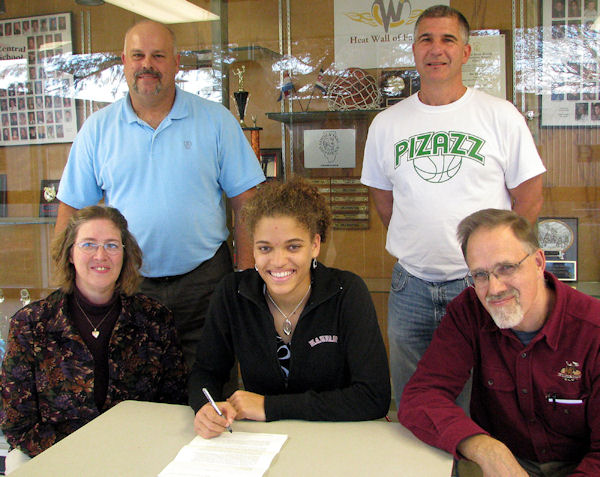 Miriam Rutzen with her parents Doug and Anita Rutzen and her coaches as she signs her commitment to play basketball at Harvard University.
---