The Hancock-Henderson Quill, Inc.

---
Tribute: Brian Hetrick-Will Be Remembered!
Dessa Rodeffer, Quill Publisher/Owner
In an emotional Memorial tribute Saturday evening at 34 Raceway/Burlington, IA, nearly 3,000 gathered to pay homage to a fellow race driver, friend, or family member Brian Hetrick, this year's points leader in the Sebastian Sandblasting 305 Sprint class at 34 Raceway.
Brian Hetrick, 29, died at University of Iowa Hospital Monday at 5:24 p.m., the result of a Sunday evening motorcycle accident near Dallas City.
Over 800 came to his memorial service at Banks and Beals Funeral Home, Stronghurst and over 400 to his Funeral on Friday morning at the Stronghurst Christian Church.
The tragic news is still reaching others who are sending their respect for this young vibrant man from Henderson County.
Rev. Frank Beatty Associate Chaplain from Great River Medical Center, where Brian was employed, read a tribute from Brian's close friend Jamie Robbins.
Jamie said, "I am so proud to have played football (at Union High School) along side Brian,"  he wrote. He was a "strong competitor and so driven." And when he hunted geese, "It was full speed, like he does everything. It could be the worst day and he would say, "Come on, the geese are flying!'" And he would always bring his camera out and take pictures of what he had.
"Brian is the only guy I would let rupture my spleen," Jamie wrote, which happened in a sledding accident.
Like all of his friends, Jamie regretted there wasn't enough time to be together.
"I wish I could have seen him racing more than I did. He always went full speed and lived life to the fullest."
A personal tribute was given to Brian during his funeral service from competitor and rival, Jared Knutstrom, an engineer for BNSF.
Jared and Brian go back to 1991 in Little League. Jared, a Southern Rebel from Stronghurst, Brian was a Union Yankee from Gladstone.
They competed with each other when their parents drove them around, and they both ended up the season on the Sand Valley All-Star team. Then returned to continue as competitors in high school.
We played football and basketball against each other, shared a few words and then ended up at Monmouth College together. Brian roomed with Aaron Cole but we ended up together in quad living quarters in Gibson Hall where they became good friends.
Jared told one humorous instance where Brian came into his room, jumped on his study table and dived on top of him collapsing his futon and wrestling to get the best of him. Someone said Julie had called and that was it.
Brian stopped everything and left to talk to her.
"It made me realize just what she meant to him to give up his pride in getting the best of me. It showed me that he thought the world of Julie."
Jared has numerous stories. Getting lost in Jacksonville, and going hunting-where he said there was no option or no way of talking him out of it, no matter how bad the weather was. We would always go.
The hurt and loss is so intense for everyone who knew or was close to Brian, but Jared gave some advice he felt Brian would want them to hear.
"Where I can not ease the pain, I can tell you what Brian would say. He would tell us:
"Don't cry.
Grieve with a smile."
"Be Strong!"
"Be honest and true to others."
"Live life with no regrets."
"Don't ever give up anything that is accomplishable."
After the 34 Raceway tribute, Jared said, "Brian would not want us crying, but he would want us sitting around remembering the good times.
He commended Jeff and Amy Laue, owners of 34 Raceways for their tribute they gave for Brian.
"You would think they were his aunt and uncle."
"The things people said out of respect for Brian and the people that were there to give support was incredible!"
"They all agreed it wasn't the same without Brian, but people came over to get one last picture of his car and support Kevin in the Heat race.
"$3700 was raised throughout the night, and it was given to the Hetrick family from fans. Then Randy Plath and his driver Bobby Mincer won the 305 Sprint trophy and presented it to the Hetrick family, a very emotional tribute for everyone.
"The granite plaque they donated to the family in his memory was very special with Brian in his Illini hat, next to his #35 Sprint car  and all the Sprint drivers and crews signatures engraved beside it."
Saturday was a memorable evening at the races for everyone. Brian had raced at 34 Raceway for 10 years, and this was the night his dream was to come true.
He had earned enough points to be declared the 2008 points championship. Basically, all he had to do is show up and start his car.
The sprint car family of racers at 34 Raceway joined together and decided they would race on this night, but not for points.
They, along with promoters Jeff and Amy Laue, decided to declare Brian the 2008 Sebastian Sandblasting 305 Sprint Car Track Champion. A fitting tribute to one of 34 Raceway's finest.
In opening ceremonies, all the Sprint cars were lined up into feature formation.
Kevin Hetrick in his number 23, with his brother Brian's number 35 top wing on his car, was lined up on the pole.
The Sprinters drove around two laps as the flagman waved the checkered flag over the field. Then they went four wide around the track and stopped all the cars on the front stretch.
Carrie Carruthers, Mediapolis, Iowa native, of Kansas City had returned to sing The National Anthem as the flag was raised and then lowered to half mast.
She sang two years ago for lost race driver Brent Slocums who had died in an unfortunate accident at 34 Raceway.
She continued by singing Amazing Grace as Brian's younger brother Kevin, brought out Brian's Sprint car and made one lap around the track. A flock of geese circled over the field and everyone was pointing. Leslye Krieger who was filming for the Hetricks, said her video camera went dead for that instant. She knew Brian was there in spirit.
In a traditional farewell, Kevin turned his brother's car around and drove back around the track, the reverse way, as all the drivers in the pits came out and lined up on the backstretch waving checkered or USA flags, and everyone in the grandstands stood and cheered as the number 35 Sprinter went by. He revved his engine a couple of times and then stood along side Amy Laue.
After introductions of the top ten in 305 Sprint points at 34 Raceway, the Laues' presented a nice plague to the Hetrick family declaring him the 2008 Track Champion as his brother Kevin raised the checkered flag to the sky in an emotional tribute to his brother.
Brian's pit crew helped push the fame #35 Sprint car back to the pits. Brian Collier pushed with the 4-wheeler as Ryan Anderson steered and Shane Johnson walked behind with Kevin seated on the back of the 4-wheeler. and Scott Pullen of Oquawka and Tyson Hart of Monmouth helped Kevin in the pit area as well.
They again felt the present of Brian as they pulled his car into the pit area and seen his tachometer was stuck on #35, Brian's car number.
Later in the evening at intermission, Sprint drivers went through the stands with their helmets to collect money for the Hetrick family.
These were Brian's rivals and it was another moving moment to witness the compassion they were showing for Brian and his family.
After they returned to their 305 Sprints they began the feature by making their first lap in a missing man formation to honor Brian.
After the race concluded, Brian's parents Jim and Joyce, and his wife Julie came forward, and they were joined by Brian's brother Kevin where they were presented a check for $3,700 raised that evening for Brian's memorial.
Randy Plath, Brian's next door neighbor and mentor, owner of #14, and his driver Bobby Mincer, who had just won the 305 Sprint feature, came forward and presented his wife Julie and family with the feature trophy they had just won, in honor of Brian.
Brian Hetrick will always be remembered "a true Track Champion!" by racing fans and in the hearts of those who knew him best.
Brian's Dad, Jim said, "I don't know how a guy like me could have such a son.
"It's overwhelming to see the influence he has had on so many lives.
"I raced, but I gave it up when he was seven when he started baseball. We would go to the races, but I never raced again. Brian just came home when he was 19, and said he was going to get a race car and race," said Jim. "It wasn't me. It was just something he wanted to do."
"He would take me hunting and he would always be two hills ahead of me, even if he had on heavy boots. He had such energy."
Both Jim and Joyce lived for their boys and have found it so "comforting" she said, to see the response people gave in their darkest moment.
"Kevin is so moved by everyone and all the help they had given him in the Pits Saturday night," she said.
Brian's wife Julie was surrounded by her family and friends at the races who together were extremely pleased with the outpouring of support in remembering Brian.
Byron and Alice Sebastian, who have been backers of Brian and his brother Kevin since their racing career began, said, "It is not the same out here without Brian, but it was a wonderful tribute and a help through a difficult evening. The good memories we shared are many," Byron said.
"Alice and I literally adopted those boys during racing season. Brian made us proud."
Sebastians gave a nice granite memorial plaque that was along the walkway of 34 Raceway in memory of Brian.
After Friday's funeral, a long caravan of mourners had accompanied his wife, parents, family and closest friends to his gravesite at Carman Cemetery, where he is now buried.
But his closest friends, can tell you his spirit is set free, causing havoc in his fun-loving way, as he waits for them to join him as they finish the great race of life.
Final Notes:
DANA ROYER, 34 RACEWAY PHOTOGRAPHER
Brian didn't seem like the type that would get upset. He always  seemed pretty mellow about things. In all the years I have been the track photographer (since 1989) I have never seen him get upset and complain to the officials, something others could follow in his footsteps about.
Most recently, I had taken a driver picture of Brian by his car for the track. As I thanked him and started to walk away, he stopped me to tell me he thought I did a nice job for 34 Raceway.
That meant a lot to me as not many drivers will take the time or make the effort. Brian's has been such a familiar face at the racetrack.
It is hard to think of him not being there. Even today, after talking with his mom, I still get teary eyed.
He was just a genuine nice guy and we can't afford to lose guys like that.
DENNIS KRIEGER, FRIEND/PHOTOGRAPHER-
I adored that kid. I've known Brian since he was 4. He is an all around good guy, genuine, loyal, paid attention to details, patient. He always had that silly grin and he would call me "Photo Daddy."
He was the complete package, whether in work, hobby, family or life.
I have two boys and I'd want Brian to be their role model. Brian was so focused on everything he did. He could be polite, but when he went to the race track, he was all business. He always wanted to excel and be a leader. He was just so good with people.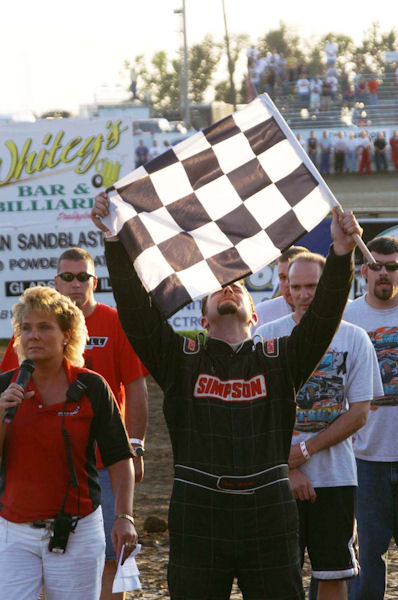 Brian Hetrick's brother Kevin raises the checkered flag to the heavens following the announcement by promoter Amy Laue (left) of his brother's 2008 Sebastian Sandblasting Track Championship during a special tribute Saturday at 34 Raceway. Brian's pit crew is in the background.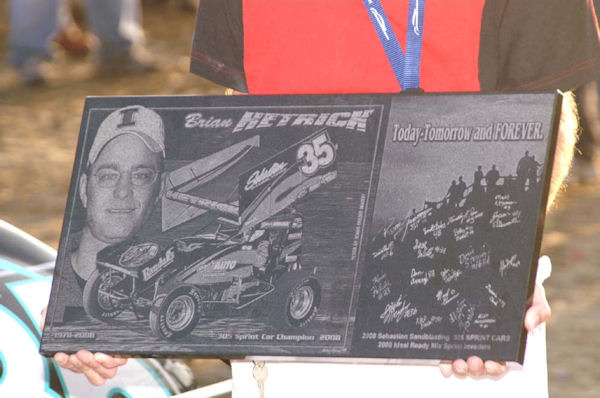 A special engraved plaque was presented to the family of Brian Hetrick during a special tribute to the 2008 Sebastian Sandblasting Track Champion at 34 Raceway Saturday.
---