The Hancock-Henderson Quill, Inc.

---
Pontoosuc: 48 Homes Affected by High Waters
Dessa Rodeffer, Quill Publisiher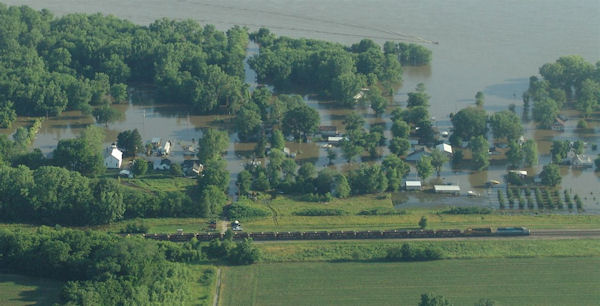 Bob Durand, who has been Mayor of Pontoosuc for 23 years, said of the town's 62 homes and buildings, 48 have been affected by the Flood of 2008's high waters. Only 14 homes, the Mayor's included, remain high and dry including their church. Durand said it came up to the steps of the church and the Pontoosuc Town Hall had 5 inches in it.
The above picture was taken early morning on Saturday, June 21st four days after the Carthage Lake levee gave way. Pontoosuc participates in the National Flood Insurance Program (NFIP). To do so, they must comply to their codes, adopting ordinances to see home-owners comply.
"If you are in a flood plain and have sustained more than 50% damage and your home is below 13 feet you are red flagged until you are elevated," Durand said. "If more than three or four homes are red flagged the town can be exempt from the program. "Homes must be brought back up to code before we can be back in NFIP again. Right now, we have 3 red tagged.
In "94 when flood waters came in, Durand took his home up 8 feet and it remains high and dry.
A Macomb developer bought lots south of Pontoosuc "Rio Vista" and developed the streets up to par.
Then the division was annexed into the town. Many have developed summer homes there, he said.
FEMA looked at the Village Hall, buildings and all the streets and roads and said they could help on a 75%/25% basis.
"Judy of FEMA has been good, tryin' to help everyone through this," he said. "We have given building permits for 20 homes and should finish up this week, he said. Most Hancock County Villages have applied for Buy-Outs through IEMA and Elevations. After FEMA gets all done, IEMA will pick out those with the biggest issues, and their limited funds will go to them.
We had 31 homes with buy-outs in 1993, Mayor Durand said. He explained that the property became "dead" property which means nothing permanent can ever be built on it. Property was given to the Village of Pontoosuc and we had what we called "Adopt A Lot.
People took a lot and they could care for it and use it to play ball, garden, or put a swing set, as long as it was not permanent. The Village put several of the lots together and constructed a park on the river, he said.
Although the Flooding is a hardship, Durand said their is a bright spot.
"People became closer and there were more attending the town meetings to see what could be done and to find out their options. Folks were talking and visiting and showing more concern for each other," he said.
---