The Hancock-Henderson Quill, Inc.

---
Churches Share Outstanding Talent
By: Mitch Worley, Quill Reporter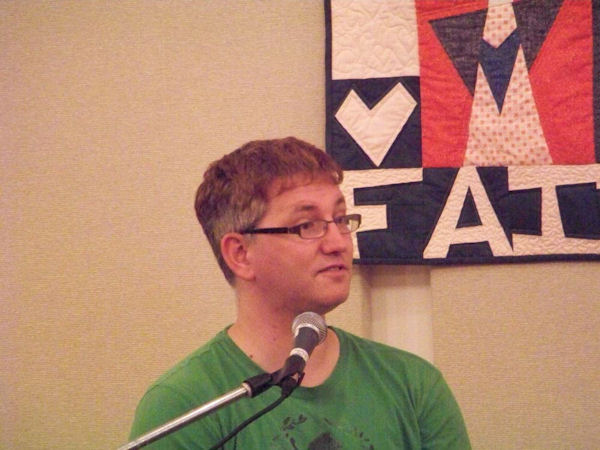 It is very rare for an Australian to be found in the likes of a La Harpe or Stronghurst, but five local churches made this a reality.
Along with that, it could also be said that the kind of talent he brings to his audience is just as scarce in our part of West Central Illinois, if not the entire Midwest.
Mike Rayson, world-renowned Christian musician, spent all of last week making the rounds between Stronghurst, Carman, Terre Haute, and La Harpe to entertain those in attendance, as well as share the gospel and his insight on dealing with the many personal struggles he has endured.
Initially, Stronghurst and Carman United Methodist Church Rev. Gene Turner had booked Rayson to perform at his own churches during the last part of August back in January.
Rayson currently serves as an Australian missionary in America, calling the state of Tennessee home, and while he and his wife were going on vacation for the first time alone in ten years, they received word their oldest son was involved in an accident and had died.
Rev. Turner knew a family that had dealt with the accident first hand, being the connection that told him that he needed to book Rayson because his talent level was off the charts.
After Turner booked Rayson to perform at his churches, Rev. Turner brought Pastor Tom Wright of the La Harpe, Durham, and Terre Haute United Methodist Churches aside at a District Clergy Meeting and told him he should get in on the Rayson gig.
Terms were discussed and a schedule to share Rayson between the churches was established, and Wright began planning how the venue would run during the dates he was allotted.
At first, Wright had envisioned using the La Harpe Community School's gymnasium to host Rayson's performance, but that plan was nixed on the grounds that it would be unbearably hot for those in attendance with little to no air circulation within a gym that had no air conditioning.
Pastor Wright then looked at other places, finding the best fit right across the street from his own church at the La Harpe Christian Church.
Pastor Darren Beachy of the La Harpe Christian Church accepted the bid to host Rayson with the first performance he would give in La Harpe last Thursday, a perfect place seemingly to have him capture the community.
Friday brought Rayson across the street to perform at the Fellowship Hall of the La Harpe United Methodist Church, followed up by a performance to wrap up the week on Sunday night at the Fellowship Hall of the Terre Haute Methodist Church.
His music wooed everyone in attendance, made people laugh and cry.
In a humble side comment, Rayson tells of how he is well known in Australia for his musical abilities, currently holding strong with his latest hit single off of his new CD at number 21 on the Australian music charts.
He also explained that he left it all behind because the Bible calls God's people to go away from the church and spread the word anywhere they could, and Rayson literally gave all of his possessions away except his guitar, nine suitcases for he and his family, and any other essential items they needed.
As aforementioned, Rayson's son died after moving to the US, and his younger son was also mauled and left for dead after being attacked by dogs.
Rayson's younger son, thankfully survived, but it still continued to add strife to the family as they continued on in their pursuit of fulfilling God's plan for their lives.
While Mike cried in his dark days, he still found a way to make the crowd laugh with several silly songs put to the tune of famous worship songs and hymns.
Along with that, there was a contemporary worship set played as well.
The performances were well received each night, as hundreds packed tightly together at each venue to see this outstanding Aussie share his testimony, make people laugh, and connect with other Christians in a way that gave them hope by sharing an idea of proveinient grace.
All of his time and message will be expanded upon next year, as Turner and Wright fully expect to bring Rayson back to perform for their congregations and local communities once again.
"Mike Rayson explains his walk with God during a question and answer segment following his performance at the Terre Haute UMC."
---