The Hancock-Henderson Quill, Inc.

---
Remembering Eunice In Style
by Mitch Worley, Quill Reporter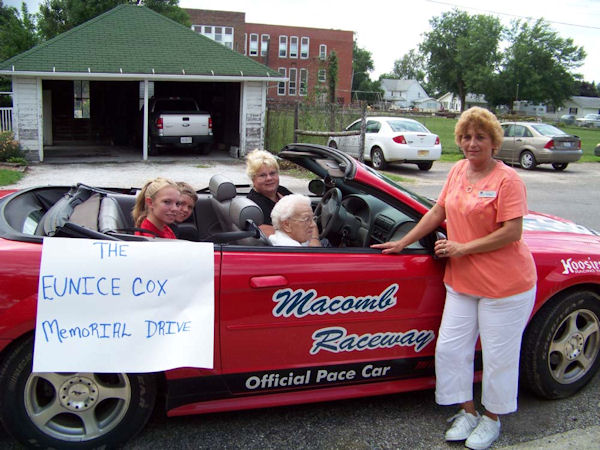 It's not very often in life that you run into someone as uniquely wonderful as Eunice Cox was.
Eunice was born July 30th, 2008 in Peoria, holding positions in a bakery, at a beauty salon, and also had to her credit the duty of spotting planes during a time of conflict, reporting the findings back to Springfield as she saw them fly by.
On Valentine's Day of 1929, Eunice married Edwin Carlson and had two daughters, Shirley and Sandra.
During the Great Depression, Eunice and her family moved to Lomax, where she would spend essentially the rest of her life.
Upon the passing of her first husband, Edwin, Eunice was re-married to Fred Cox while she worked at the Lomax Post Office.
Eunice would eventually become Postmaster at the Lomax Post Office, holding that position for many years.
Fred and Eunice were happily married and spent a great deal of time traveling, spending their honeymoon in Hawaii and visiting other destinations within the United States such as Mount Rushmore, the White House, and New York City.
Although Eunice was known for the outstandingly wonderful life she lived, she was also very well known for her commitment to her friends, family, and community.
She loved and cherished them, spending as much time as she could with them, enjoying the past time of attending basketball games most notably.
Eunice was a resident of the La Harpe Davier Nursing Home for eight years, during that time leading morning exercises at the facility.
This year was going to be the 100th birthday for Eunice, and residents recalled during a memorial service lead by Pastor Darren Beachy of the La Harpe Christian Church, on what would have been her birthday, last Wednesday, that she knew precisely how many days it was until she did turn 100.
Many other stories about Eunice were shared about her days at work, but Florence Cortelyou told quite possibly one of the more memorable stories of Eunice's loving and quirky personality during a conversation after the service was through.
Florence said that, "Eunice was down the hall from me and when my grandchildren first showed up to visit me after I moved in here, Eunice got them to come into her room before they got to mine.
"She had little gifts for them and every time they came to visit, they always wanted to go see that smiling lady that gave them hugs and presents when they went to see her."
Everyone that was at the service that spoke remembered exactly that; all the smiles and hugs she gave to everyone she came in contact with.
Another thing people talked about was how it had always been a dream of Eunice's to celebrate this momentous occasion by riding around in a red Ford Mustang convertible.
Unfortunately, Eunice fell one month shy of her 100th birthday, passing away in June of this year.
Even though Eunice was no longer with those that loved her at the nursing home, it was their mission to see to it that she was still honored and in a way got this special birthday wish to come to fruition.
La Harpe Davier Nursing Home Administrator, Lisa Trego, and several other staff members came together to organize the Eunice Cox Memorial Drive on what would have been her birthday, July 30th, featuring rides in convertibles for residents of nursing home that were able to take a ride in them.
One of the nurses, Stephanie Smiddy, provided a Chrysler Sebring convertible that Marie Smessert rode in, the Stokke family of La Harpe provided a red Mustang convertible for Evelyn Carter, and Marie Atkins rode in a red Mustang provided by the Giles family of Macomb that serves as the pace car at Macomb Speedway.
Lisa Trego said of the event, "It was a nice way to remember such an amazing person."
---