The Hancock-Henderson Quill, Inc.

---
Gifts Received For Flood Relief As Highland Park Adopts Henderson County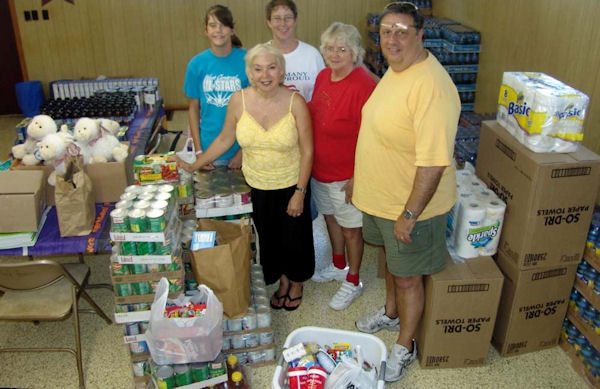 In the worst situations, there always is good to be found, and that is true even when depressed about losing your home, farmland, your job or even your business, and then you meet people like Carey and Patty Chickerneo who brighten your day. This caring couple drove four hours from their Chicago suburb of Highland Park where Carey runs and operates North Shore Auto Group, to the Salvation Army site in Gladstone with a van full of donated items for flood victims. Their van held everything from food and clothes, to paper and personal items.
They also brought a $4,000 check to deposit into the First State Bank of Biggsville County Flood Relief account.
"We saw the flooding on the news for a three-day splash and then we didn't see any more of it," said Carey. We knew people were still suffering. I thought about how people are fighting the energy crises....But, what if you woke up and found you don't have your home, your personal items, your business, your job, or your transportation?'"
"I thought, "We have the ability to get the word out, we have a large customer base as we run parts in our vans all over the city of Chicago.
"I thought, wouldn't it be cool to fill one of those vans and take it down to help and bring back the story."
The Chickerneos sent an email blast out to their 18,000 customers on their mailing list and soon had donations to fill a van and money for the flood account.
They were able to talk to the people at the Salvation Army, tour Gulfport and take pictures and were then ready to return home with their flood and recovery story and make plans for an upcoming fundraising event in their town.
"I am close friends with the Mayor and we are going to adopt the county," Carey said, "and we will go home, tell our story, plan a big fundraising event, and do what we can to help."
After Patty and Carey Chickerneo left for Highland Park, Vonnie Gray who lives at Indian Mounds curve, and Tina Waterman of Oquawka, could almost sing a tune.
Vonnie was assisting Tina as she had given Gene Ray a much needed day off as they operate the Salvation Army daily and had served 5,051 meals as of July 16 not counting feeding sandbaggers and workers prior to the flooding.
---