The Hancock-Henderson Quill, Inc.

---
Illini West's Shipman To Be A Wildcat
By: Mitch Worley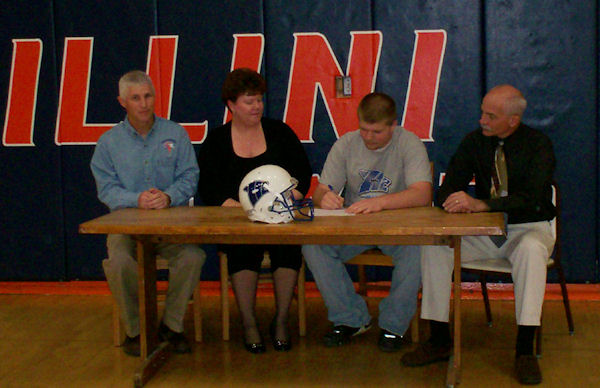 Another Illini West Senior moves on from the high school ranks to play at the collegiate level.
Charger Offensive Lineman Scott Shipman signed his Letter of Intent Tuesday to play football along side high school teammate Matt Snyder at Culver-Stockton College in Canton, Missouri for Coach Christian Gunther.
In attendance were his parents, as well as Coach Tim Lafferty, who served as an assistant coach to the football team and their offensive line coach during this past season.
Coach Lafferty said of Shipman, "He showed a lot of ability and had a great work ethic - very physical kid. His technique was great and he helped me a lot in my transition, teaching me new things I didn't even know. I think he'll be successful at the next level."
Scott is extremely excited to have this opportunity.
When asked about what he is looking forward to the most, Shipman said, "Probably the potential they have of being great. They are returning a bunch of great players, and I'm excited that I'll be going from one winning team to another."
Shipman also said that he's looking to make an impact right away. He's also looking forward to the challenge of potentially switching sides of the ball as he played offensive tackle this past year and may be converted into a defensive end when he moves on to Culver-Stockton.
The one thing Scott seems to be looking forward to the most about attending Culver-Stockton College is his living situation. He'll be rooming with high school teammate and C-SC trackster Bryan Rodeffer.
Bryan is just one of many familiar faces Scott can expect to see around campus as many Illini West alums and alumni from the deactivated schools that have now converged to create the new high school attend Culver-Stockton College.
Congratulations to Scott on becoming the latest addition to a great collegiate football program, and good luck to all current and incoming Wildcats in the years to come!
---