The Hancock-Henderson Quill, Inc.

---
Meet Your Neighbor
by Mitch Worley, Quill Reporter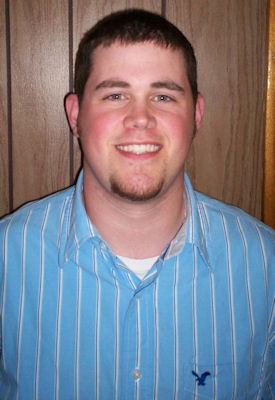 Meet Your Neighbor, Adam Link. Adam is a lifetime resident of rural La Harpe along the Fountain Green Blacktop, born the middle child and only son of Daniel and Rebecca Link.
In May of 2003, Adam graduated from La Harpe High School as the Co-Valedictorian of his class, and in December of 2007 graduated Summa Cum Laude from Western Illinois University with a Bachelors Degree in History with a minor in Mathematics.
During the Summer of 2005 while attending Western Illinois University, Adam studied abroad in Greece and the rest of the Mediterranean area. He traveled to the ancient cities of Sparta, Delphi, and Athens.
Throughout his life, Adam has been extremely active with sports as a player, official, and a coach.
Adam played two years of baseball in high school, as well as coached in the Summer Baseball Program at the Little League level for five more years.
This past season, Adam was also an assistant basketball coach for B-PC/Avon High School. Adam has also served as an officially licensed IHSA baseball umpire for the past four years.
Baseball is Adam's favorite sport and he avidly follows the Cardinals. He also has a wealth of knowledge about the game and it's players at the professional level, which helps allow him to be successful in his fantasy baseball leagues he participates in with his friends.
Adam currently is fielding offers from schools statewide for a full-time teaching and coaching position somewhere, keeping himself busy substitute teaching and umpiring in the meantime.
---