The Hancock-Henderson Quill, Inc.

---
Team C.R.O.S.S.Charity Run Scores Big
by Mitch Worley, Quill Reporter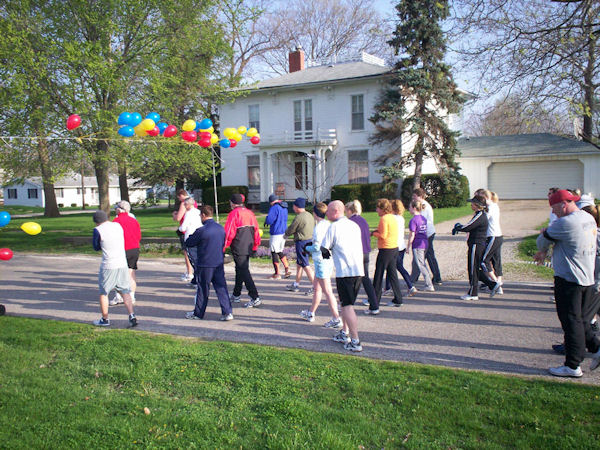 Fifty-five runners came together Saturday, April 26th not only to compete in a race for a trophy and the glory of winning a race, but to help out others in need as well.
A little over $2,000 was raised by the entries of participants and local sponsorships, but a private donor generously doubled that which was raised to bring the total to around $4,100.
All of the money raised will go toward a Hurricane Katrina Relief Mission by the La Harpe Christian Church Youth Group.
Those running and choosing to casually enjoy the morning began the race at 8 a.m. with some people making it back off of the 5k route in less than a half hour!
The community also got in the act as people stood along the route and cheered on those participating in the race and yielded to allow the runners to uninhibitedly cross Route 9 to continue along their specified running route.
There were many different categories runners could qualify for. Here's a list of all the winners from the 2008 Team C.R.O.S.S. Charity 5/10k Run/Walk event:
5k Winners:
Male Overall: Lloyd Little (25:03)
Female Overall: Lori Rudy (27:01)
Under 19
1st Male: Daniel Patterson (26:57)
2nd Male: Tucker Huston (42:56)
1st Female: Becky Newton (27:41)
2nd Female: DeLana Dodge (41:11)
20-29
1st Male: Michael Palmer (39:19)
2nd Male: Brett Trimpe (44:46)
1st Female: Selena Pratt (34:26)
2nd Female: Shasta Thomson (36:38)
30-39
1st Male: Chuck Newton (27:06)
2nd Male: Roy Day (47:12)
1st Female: Debbie Corzatt (47:08)
2nd Female: Carla Day (47:09)
40-49
1st Male: Mike Snowden (28:11)
2nd Male: Duane Sheckler (45:03)
1st Female: Amy Dodge (33:42)
50+
1st Male: James Smith (34:07)
1st Female: Sandra Bavery (29:42)
2nd Female: Kaye Mowen (40:16)
10k Winners:
Male Overall: Brett Anderson (44:21)
Female Overall: Lindsay Beach (48:19)
20-29
1st Female: Emily Trimpe (1:03:40)
30-39
1st Male: Brian Thomson (1:05:30)
1st Female: Jessica Butler (52:52)
2nd Female: Ember Keithley (57:00)
40-49
1st Male: Richard Link (45:17)
2nd Male: Chris Williams (1:04:11)
50-59
1st Male: Lawson Barclay (54:54)
2nd Male: Gary Szymuta (1:18:38)
Team C.R.O.S.S and the La Harpe Christian Church Youth Group said they appreciated Valerie Butler and Jenni Little's t-shirt design, as well as all of the participants and local sponsors for their efforts in making this year's event such a great success.
---