The Hancock-Henderson Quill, Inc.

---
Students Learn from Mock Crash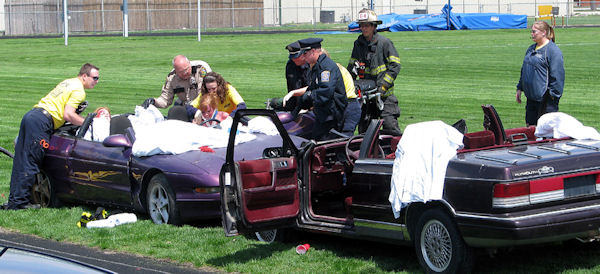 On Tuesday afternoon high school juniors and seniors from Monmouth-Roseville, United, and West Central met at the Monmouth football field for a sobering demonstration of the events following a severe car wreck.
Put on by Jodi Scott and the Regional Office of Education, the program showed students the work of early responders, the state and local police, emergency rescue personnel, fire department responders, ambulance workers, and the coroner.
Student "actors" portrayed victims of a DUI accident while the audience could hear the police officers' interrogation of the supposed drunk driver.
The program concluded with personal comments from students who personally had loved ones die in traffic accidents.
West Central's 34VOICES officers Julianna Gillam, Miriam Rutzen, and Miranda Clark represented their local organization by explaining their commitment to making U.S. Highway 34 a safer, 4-lane road.
Students from all three high schools have participate in a huge petition drive also involving community adults seeking to urge legislators to appropriate funds for highway and school improvements.
Miriam Rutzen concluded her presentation by inviting anyone interested to come to West Central's Memorial Service on Monday, May 5th, at 10:00 a.m. at West Central High School.
The students have organized a service honoring the memory of Melissa A. Salcedo-Munoz who tragically died on Highway 34 near the West Central campus one year ago. Some of Salcedo-Munoz family will be at the memorial to talk. West Central is planning for a good showing from the community.
---