The Hancock-Henderson Quill, Inc.

---
Meet Your Neighbor
By Susan Galbraith, Quill Staff
Meet Your Neighbor Joyce (Stevenson) Louden.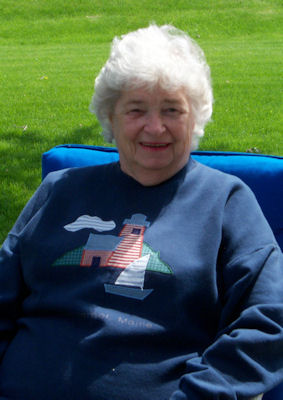 Joyce and her hubby, Robert, have lived in Stronghurst for 38 years. They will celebrate 63 years of happily married life in September.
She was born in Gladstone Township and has lived her entire life in the Henderson County area.
She attended Cork Country School near Stronghurst and Terre Haute High School. Joyce also took classes at Carl Sandburg College in Galesburg.
Out of their union they have been blessed with three children. Two sons, Larry, retired from the U.S. Air Force and now teaches flying, in a simulator, and (Pat) a retired registered nurse who live in O'Fallon, Rodney, deceased, who was a spray pilot and had a business is this area, and one daughter, Laura Ball, who resides in Bakersfield, California.
Joyce and Robert have 6 grandchildren, Jeff who is manager of Lowe's Home Improvement in Hot Springs, Arkansas, Ben in the Air National Guard and is a detective for the Belleville Police force in Belleville, Stacey Allen who lives in Bushnell, Krystal Van Worth who lives in Bakersfield, California, Bethany Neppl of Queens Creek, Arizona and Katie Ball of Chicago.
They also have 9 great-grandchildren.
Joyce's hobbies are reading, oil painting, embroidery, watching the Chicago Cubs, fishing with Robert, and traveling. She recalls their wonderful trip to Alaska when they drove up the Alaskan highway. Another memorable trip was when their son, Larry, was stationed in England and they visited England and Scotland. They have traveled every state except Washington and Oregon.
Joyce now enjoys her Methodist Church activities, the Gaudy Gals, and the Women's' Club Republican Party of which she is president.
She said she has had the best of both worlds as she was able to be home when their children were young and lived on the farm.
Professionally she has been a deputy sheriff, a nurse's aide at Roseville Country Manor when it first opened, worked at the Quill helping Belva set ads and pagination, member of the Henderson County Board of Review, owners for 3 1/2 years of the Travelers Inn in La Harpe. She said, "I loved operating the Inn with the 14-20 wonderful employees we had." Joyce was also employed at J.S. Schramns in Burlington, Iowa, for 7 1/2 years before retiring.
---