The Hancock-Henderson Quill, Inc.

---
Spotlight: Celebrating Good Times at Illini West
Mitch Worley, Quill Reporter
The inaugural prom at Illini West was all that the students that attend the high school hoped and dreamed of.
As customary of any prom, the students got together before heading off to the ball at Illini West High School to show off their attire and give the entire community a chance to partake in the fun. Needless to say, with Illini West's student body being as large as it is, the house was packed for the pre-prom event.
There was a great stir of anticipation before the pre-prom event finally kicked off as the students were obviously anxious to get to the dance that was to follow.
Many couples and groups of friends scurried about to get in more photo opportunities and to see all of the other unique dresses and tuxedos being sported, as it seemed that no two dresses or tuxedos were identical.
The pre-prom event was kicked off at 4 PM, which began the presentation of the couples attending prom, along with sharing future plans for college and beyond. The Coronation of the first Prom King and Prom Queen of Illini West was also a part of the Promenade with Kelum Fecht being chosen as Prom King and Morgan Mohr being selected as the Prom Queen.
Although the pre-prom get-together was very well done, it came to a much welcomed end by the students as they were ready to head off to the Ambiance in Quincy to officially kick off prom. When the students arrived at the Ambiance, they were treated to a meal that included choices of Grilled Chicken or Roasted Pork, Mashed Potatoes and Gravy, different choices of vegetables and dessert. After the meal, the students danced the night away and continued to enjoy the historic night of fellowship.
Once the dance was over, it was time for the students to head back to Illini West High School in Carthage to continue the celebration with Post-Prom activities. The students had plenty of things to keep them busy having fun with an inflatable obstacle course, a bungee run, a chance to win money in the cash cage, a mechanical bull, and Guitar Hero III to be played. There was a drawing held for students to win their very own copy of the popular gaming title with Jennifer Siegworth and Katie Swanson being the lucky winners of the two copies of the highly coveted game.
With the first ever prom at Illini West High School ending as such a raving success, it will be interesting to see how the school will out-do itself next year.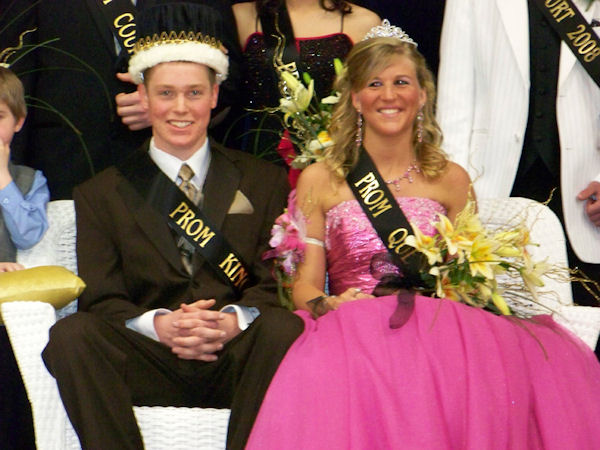 "Seated to the left is Kelum Fecht, the first ever Prom King at Illini West, along with the first Prom Queen, Morgan Mohr."
-photo by Denise Swanson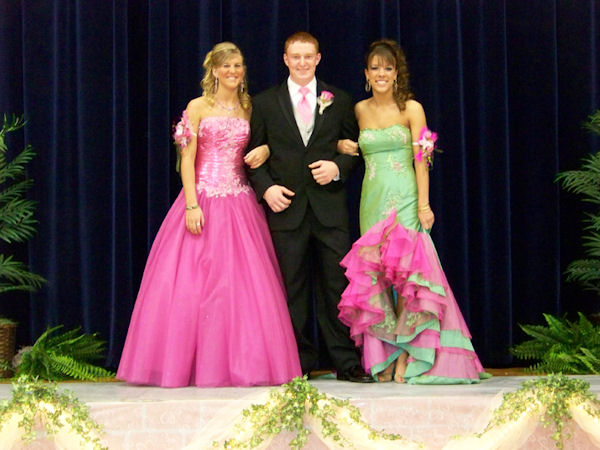 Alex Bundy was all smiles throughout the night as he was chosen as a Prom Attendant, along with having two dates for his Senior Prom, one of which being the Prom Queen, and the other being the lovely Haeli Johnson.
-photo by Denise Swanson
---