The Hancock-Henderson Quill, Inc.

---
Spotlight: La Harpe Davier Celebrates One Year With Petersen Health Care
Diane Spilker, Quill Staff
La Harpe: April 1st was not only April Fools Day, but it was a day of lasting memories-a milestone at La Harpe Davier Care Center, because it was the day LDCC celebrated it's first anniversary with Petersen Health Care.
One year ago, Petersen Health Care took over the management of LDCC and it has been thriving ever since.
It also marked the official start of new LDCC Administrator Lisa Trego.
Visitors young and old, were met at the doors of LDCC by Petersen Health Care officials welcoming them to the gathering and inviting all to take a look around and visit with residents.
Representing Petersen Health Care were Tony Twardowski Director of Clinical Operations, Cindy White Vice-President of Operations, and Trish Benson Director of Census Development.
Guests, employees, and residents were served a picnic style meal featuring hot-dogs, hamburgers and all the trimming topped off with ice cream and delicious toppings, beverage and popcorn by Administrator Lisa Trego and Director of Environmental Services Betty Allen.
As they enjoyed this meal in the comfortable dining area, everyone enjoyed musical performances of Annie Mitchell Registered Nurse for Petersen Health Care and "Jr', who played various songs from the 60s and 70s.
At LDCC, employees express that they take great pride in allowing individual family attention upon each admission.
They expressed that as a team, they understand how difficult this decision can be for families.
The admissions staff is educated to answer pertinent questions in regard to financial and legal issues, and they expressed how the residents rights are held in the highest standard.
The atmosphere is one that emphasizes programming for ultimate intellectual, social and spiritual needs. At LDCC, the top priority is to meet the resident's physical, mental and emotional needs. They take a personal approach in serving every resident, using input from both the residents and their family to develop an excellent plan of care.
Special services being offered at LDCC are free transportation, alzheimer's support, respite/recovery care, hospice care, beauty shop and laundry services. Activities and facility features include independent living with 5 independent living apartments, religious services, gardening, day rooms for reading and family counseling.
The mission of LDCC is "We are dedicated to assisting the elderly population in maintaining the highest possible quality of life. We believe in and are committed to providing a home-like environment where the individuality of each person is recognized, encouraged and respected.' The slogan of LDCC is "Caring with a Hometown Touch'.
Some other programs offered by the facility are (1) Resources - LDCC Social Services and Accounting Department will assist the resident in making financial arrangements; (2) Medical - Surgical Nursing -
The RNs and LPNs at LDCC are skilled at providing Medical-Surgical care and are required to fulfill continuing education requirements in medical care to keep up with the trends of the ever-changing medical world; (3) Physical Therapy - to restore or achieve optimal movement and potential; (4) Occupational Therapy - to restore the resident's independence to the highest level; (5) Speech Therapy - addresses all communication and swallowing disorders; (6) Specialized Services - therapeutic dietary services, 24-hour nursing services, skilled medical care, medication management, hospice services, respite care, pastoral care, special nutritional interventions, specialized therapeutic activities and free transportation. LDCC is host to a 41-bed skilled care facility providing comprehensive health services for varying levels of care.
Petersen Health Care Group is based out of Peoria and continues to embrace the philosophy that the company was founded on over 30 years ago ... "to treat each person living with us with the care and compassion they deserve. Most of our residents have lived and worked a long life and we ensure that they are now rewarded with the best care possible.' When combined with the Petersen Resident-Care Model, this philosophy is what Petersen Health Care unique in the profession and the Midwest's "Leading Long Term Care Provider'. PHC is dedicated to assisting the elderly population in maintaining the highest possible quality of life for the longest possible time. They are committed to providing an environment where the dignity of each individual is assured. They also believe:
"That a person is unique, deserving of dignity and respect
"That each person possesses unique qualities, which make up a distinct personality.
"Although a person may lose the ability to function as before, that person still possesses this unique quality which must be recognized and respected.
"That all aspects of a person must be considered: physical, mental, spiritual and social, when assessing and providing care for all individuals.
"That the staff must be accessible, perceptive, and open to recognize needs and to provide care for residents.
"That involvement with significant others is beneficial to residents, family members, and staff in planning and providing quality care.
Petersen Health Care's mission for each facility is to be great community partners.
All PHC homes are encouraged to host community activities and participate in fundraisers for the good of the community and local organizations. Petersen Health Care is recognized as a leader in the industry for community participation.
La Harpe Davier Health Care Center is a skilled care facility located in Western Illinois in the small community of La Harpe.
Located 25 miles northwest of Macomb off of IL-9; LDCC offers a quiet small town feel yet is still close to doctor's offices, hospitals and more. To schedule a tour or for more information, call today - 217-659-3222.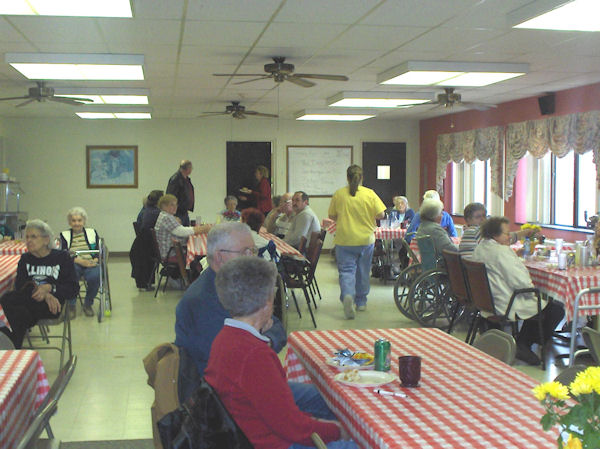 Crowds of family, friends, employees and residents gather in the dining room to enjoy a picnic, music, dancing and lots of fun at LDCC's 1-year anniversary celebration.
---