The Hancock-Henderson Quill, Inc.

---
Big Name Guests, Inspirational Speeches Make Lincoln Day Dinner Huge Success
McDonough County GOP hear likely Gubernatorial candidate State Senator Bill Brady & Miss America 2003 Erika Harold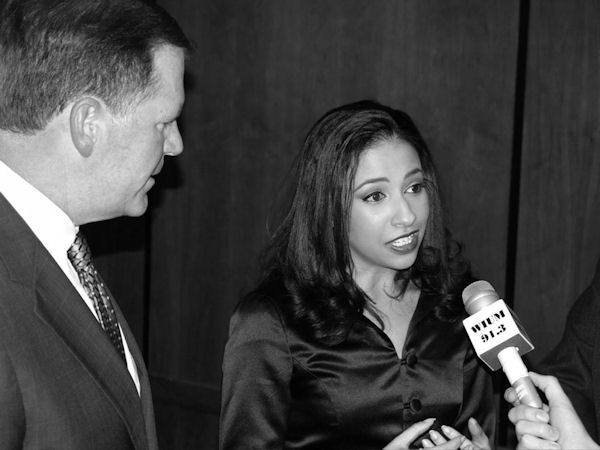 Macomb, IL - A likely candidate for Illinois Governor in 2010 and a former Miss America - both considered rising stars in Illinois Republican politics - addressed a large gathering of McDonough County Republicans on Saturday night at the Lincoln Day Dinner.
Both speakers delivered moving messages calling for change in our State's leadership and the importance of understanding and adhering to Party principles.
More than 325 tickets to the annual event were sold and the WIU Grand Ballroom was near capacity as Miss America 2003 Erika Harold and State Senator Bill Brady (R-Bloomington) gave inspirational, informational and motivating messages.
Erika Harold, the first keynote speaker of the evening, reflected on lessons she learned touring the United States while serving as Miss America 2003. Her powerful message recalled instances of interacting with school children around the Country, meeting with President Bush in the Oval Office, speaking at the 2004 Republican National Convention and other noteworthy experiences.
However, her recollection of participating in a somber ceremony at Arlington National Cemetery and laying a wreath at the Tomb of the Unknown Soldier was most moving as she described how that moment "crystallized' the importance of freedom for all Americans.. Harold was very gracious to thank all local Veterans present at the event and was given a standing ovation following her speech. Harold was presented a bust of Abraham Lincoln produced in nearby Monmouth as a token of the McDonough County Republicans' appreciation of her participation.
State Senator Bill Brady (R-Bloomington) next took the stage and brought a valuable perspective on Illinois government. The Senator discussed in depth the rampant mismanagement of taxpayer dollars by the Governor's administration, the deteriorating condition of much of Downstate Illinois' infrastructure and the alarming number of jobs lost from this state in recent years.
He cited that Illinois has the "third worst business climate in the Nation." Brady was a Republican candidate for Governor in 2006 and made several visits to McDonough County during that campaign.
He told the audience at the Lincoln Day Dinner, "thanks to those of you who supported me in 2006, and to those who did not, I'm going to give you another chance."
This signaled his intentions to once again seek the State's highest executive office, a very welcome statement to the Republican crowd. Brady too received a standing ovation and was presented an engraved ax from Vaughan and Bushnell Manufacturing in Bushnell.
Master of Ceremonies State Rep. Rich Myers and McDonough County Republican Chairman Monte DeCounter joined to say the evening was a tremendous success, both in inspiring local Republicans and raising funds for the County Party. Said DeCounter, "We had two A-list speakers, a very successful auction and a full-house:the Republican Party is alive and well in McDonough County and we look forward to helping all of our candidates to victory on Election Day this November."
---