The Hancock-Henderson Quill, Inc.

---
Meet Your Neighbors
by Diane Spilker, The Quill Staff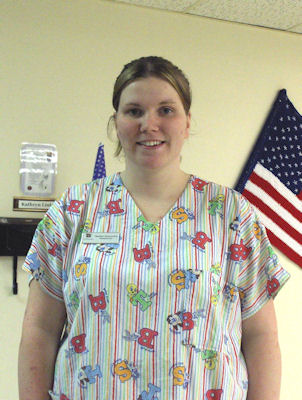 Meet Your Neighbor Heather Dobrovolny, born in Jacksonville, on April 15, 1988 to Morris and Rhonda Dobrovolny.
Heather was raised as the only girl with six brothers: Tim, Patrick, Jason, Jordan, Brandon and Eddie.
She graduated from Beardstown High School in 2007 and moved from Beardstown in June 2007 to La Harpe to be with her fiance Andrew Bradford, and his family.
Andrew is employed with Swine Production in La Harpe and she is currently employed at the La Harpe Davier Care Center in the Housekeeping Department.
Heather and Andrew have a 7-month old son, Blake Bradford. They attend church in Dallas City.
In her spare time, she enjoys spending lots of time with son Blake.
Although she has only been with the facility for 2 months, Heather loves working La Harpe Davier Care Center and says:
"The elderly residents are nice and funny, they put me in a better mood".
If you see Heather, introduce yourself and welcome her to La Harpe.
---