The Hancock-Henderson Quill, Inc.

---
Prom Marks The Sure Arrival of Spring
West Central Students Enjoy Prom and Promenade
by Philip Geiser. March 31, 2008
A beautiful, cool spring afternoon and evening blessed West Central High School's Prom 2008 on Saturday, March 29th.
The special event began at 4:00 p.m. in the high school gym as friends, family, and interested community members gathered to watch prom attendees display their attire.
The guys in their fanciest tuxedos or dress-up clothes - and the girls in their prettiest dresses - were introduced to a gym full of admirers who came to the school to participate in a little bit of the evening's excitement.
For an hour or so students paraded, cameras flashed, and music played as couples strolled through circular arches after being introduced to the community.
Students were on their own for a choice of dinner with their guests. Then, from 7:00 to 11:00 p.m. students and faculty gathered at Burlington's Howard Johnson's Event Center for an evening of dancing, appetizers, dancing, more photographs, dancing, a senior class video, dancing, and coronation of prom royalty.
At about 10:00 p.m. the crowning of King Ben Hawk and Queen Raven Wood took place between the decorated pillars on the stage.
Class sponsors Mrs. Alexander, Ms. Hohenboken, Mr. Gittings, and Mrs. Arnold - along with a large group of energetic students - presented an entertaining and fun evening for every person who participated.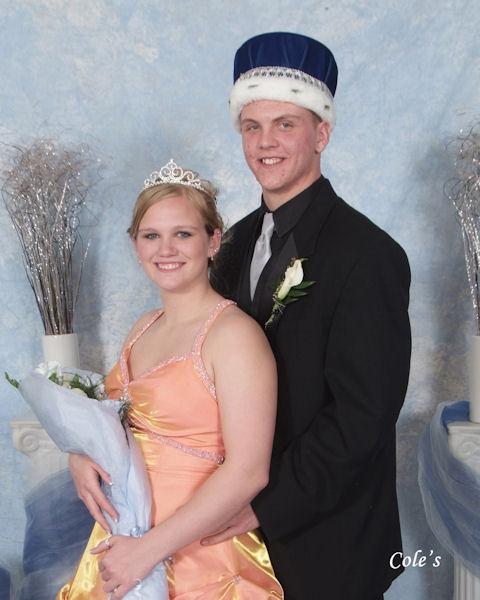 Queen Raven Wood and King Ben Hawk
---