The Hancock-Henderson Quill, Inc.

---
Meet Your Neighbor
By Susan Galbraith, Quill Staff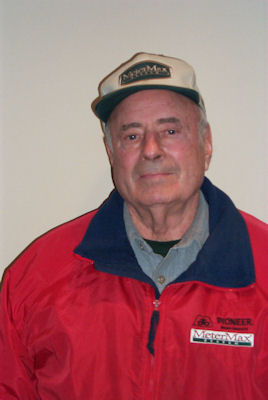 Meet Your Neighbor Gene Heap of Media. He installs planter meters, makes meter adjustments, and rebuilds the meters for Precisioin Planting Company. In the summer he is busy bulldozing ponds, lakes and waterways.
Gene was born and raised on a farm in Warren County, near Roseville. He and his cousin, Bob Reynolds, were both born in the farm home near Roseville. Gene's mom and Bob's mom were sisters.
He graduated from Media High School in 1951.
Gene enlisted in the United States Navy in 1952 and was stationed on board a Destroyer for two years, and then on a submarine stationed out of Hawaii, for two years but spent most of his time at sea. He was discharged from the Navy in 1956.
His step-mom, Barbara, will be 90 in April and lives in Seattle, Washington.
He has one bother, Bill (Pat) who lives in Macomb and one sister, Nina Young that lives in Fruitport, Michigan.
Gene is married to Carol (Nichols) and they will celebrate their 30th wedding anniversary this year.
He has three sons, Brian, who owns Heap Ag and lives in rural Stronghurst, Blake who has Heap Construction and lives at rural Gladstone and Brett (Jana) Cole of Media; three daughters, Gena (Shelly) Johnson who lives in Carman, Dana (Dave) Berlet who lives in La Harpe, and Tracey (Patrick) Bigger of rural Biggsville.
He is grandfather to Chasen, Brock, Shayna Jo, Dane, Clinton, Lonnie, Ross, Gene, Ty, Max, Blake and Kendra and great-grandfather to Hayli, Lexie and Gavin.
Gene said, "If and when I retire I would like to rebuild antique cars."
When he and Carol honeymooned they went to Michigan and rode their dune buggy. Each year since then the entire family goes and rides their dune buggies, camps, and enjoys taking pictures and making special family memories.
---