The Hancock-Henderson Quill, Inc.

---
Fun With The Food Guru
by Dessa Rodeffer Quill Publisher/Owner
7 November 2007
Saturday evening my friend Joan White and I enjoyed a wonderful evening at Food Guru University with Peter Harman owner of Martini's Restaurant in Burlington, Iowa.
Peter's Food Guru University has been featured regularly on Channel 6 TV in the Quad Cities with Paula Sands.
It has also been talked about as "the place to go" for an evening of outstanding food and fun entertainment as you watch Harman "the Food Guru" at work fixing some of the best foods in the Midwest.
Fortunately for Joan and I, we selected a special night to celebrate her birthday, for it was an evening put together by Peter to help his TV newscaster friend Gary Metivier promote his book, "Willie's Wagon."
Two weeks ago, Gary called to ask Peter if he would put his children's book in his Martini's gift shop to sell in order to help send kids with cancer to Cancer Camp without cost and help support Gilda's Club Quad Cities.
Harman said, "I'll do better than that," I'll throw a Food Guru University night and give you half the proceeds and offer the books for sale as well."
It was a very fun and moving evening as most of the channel 6 TV crew and their spouses came to the event. I was just fortunate enough to have called about reservations at Martini's and found out there were tickets to this special Food Guru University event.
Not only did we have exquisite place settings, view of the Big River Bridge, a personalized menu, and some of the best food I have ever eaten, but we also were treated to the moving news clips and story from Gary Metivier of a young lad with cancer and how cancer camp was the highlight of his last 2 weeks on earth.
We were all touched by Gary's passion to help these kids and Harman, himself told him that over $800 would be given him from half the proceeds of the evening. But he didn't stop there. He also presented him his own check for $1,500. Others in the room gave money as well.
Metivier and his lovely wife personally went to each table and thanked each for coming. The book "Willie's Wagon" was sold afterwards and he autographed each one. It's a wonderful book of a first grade boy who is bored and how he turned the day into a very special one to help others. Gary said the book has been a best seller at the Barnes and Nobles and Borders.
Peter picked his favorite foods for the evening with Shrimp in Orange Tequila, Beurre Blanc, Tropical Fruit Salsa, Mediterranean Salad, both so very light and extremely flavorful, a juicy and delicious Filet & Lobster Oskar with whipped potatoes and asparagus, and fresh baked bread.
Paula Sands helped Peter prepare the delicious Chocolate Ganache Mousse Cake. She was really enjoying mixing together the chocolate sauce to pour over the top and we could hardly wait. It was Starbucks Chocolate Expresso, Kalula, and Godiva Chocolate stirred together. It was topped with whipped cream and a strawberry and a squeeze of raspberry syrup as well.
We had great servers, great conversation, wonderful entertainment and a wonderful cause to support. What a memorable evening!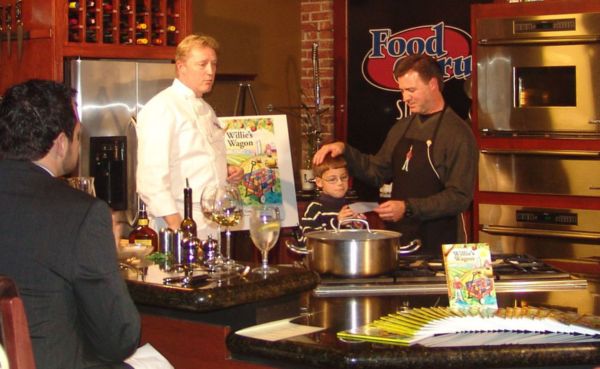 Harman presents a $1500 check to Gary Metivier and his son Adam Metivier.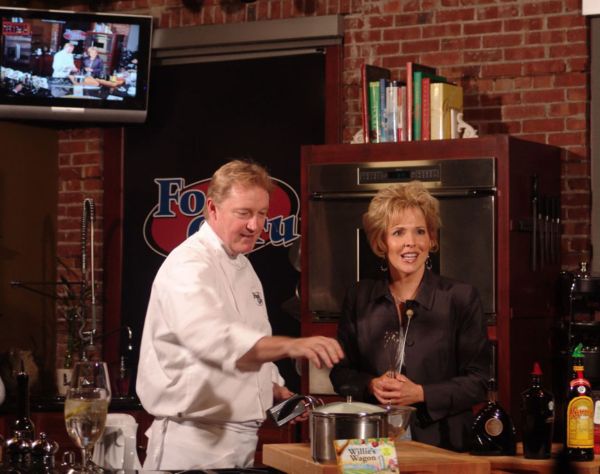 Peter Harman, the Food Guru and Paula Sands begin making the so very delicious Chocolate Mousse Cake dessert.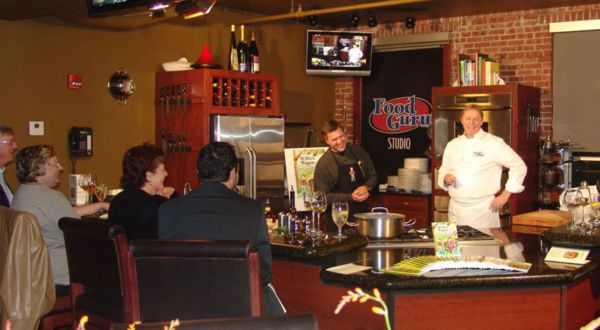 Harman has fun teasing Gary Metivier, as he prepares to help him with the Mediterrenean Salad
---