The Hancock-Henderson Quill, Inc.

---
Fun At Illini's First Game; Missing The Chief
by Dessa Rodeffer, Quill Publisher/Owner
12 September 2007
This past Saturday, I enjoyed traveling to Champaign-Urbana to see the first Illini football game of the season against Western University, Macomb.
The 48,000 plus crowd was almost entirely a field of orange, most Illini "Chief" fans mourning his absence with a continual "Chieeef" haunting call throughout the game, especially halftime.
"Special" friends gave me four tickets they were not using and I immediately called my grandson, who plans on going to Illinois to college, to see if he wanted to go. Within five mintues he had arranged for me to pick up Mike Lewis and Jesse Sams at West Central High and I was soon on my way with three very excited Illini fans attending their first Illini game.
As we walked up to enter the stadium, a fighter jet flew over skimming the top of the stadium and scaring us to death. You could hear the huge Illinois band playing and it was nothing but pure excitement for all.
We had great seats in the newly revamped stadium and the percision of the band was impressive. The Chief was sadly missed, but the game went on and Illini had their first shut-out in some time although Western, a Division II team, played tough.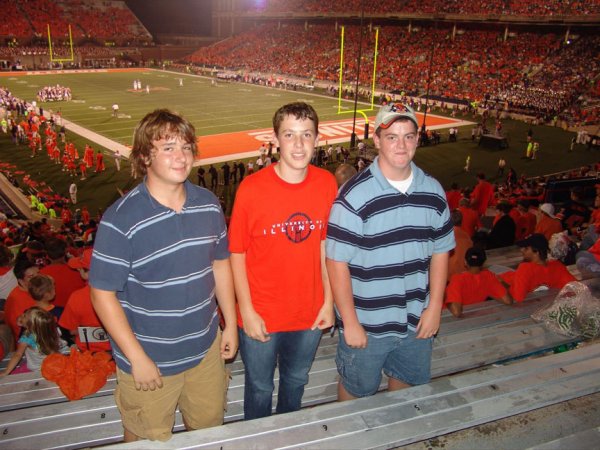 Mike Lewis, Drew Postle, Jesse Sams, West Central Sophomores, at Memorial Stadium.
---