The Hancock-Henderson Quill, Inc.

---
In The Pits
by Dessa Rodeffer, Quill Publisher/Owner
11 July 2007
Being in the pits has a whole new meaning to me after attending my first racing competition at Burlington, Iowa 34 Raceway, on the 4th of July.
I can see a lot goes on in back of this exciting arena that weekly features Saturday evening racing of Imca Late Models, Hobby Stocks, Imca Modified, Imca Stock Cars, and 305 Sprint Cars with several of our area guys competing.
On Wednesday, July 4th, a special race with Sprint Invaders Spectacular & Fireworks and there wasn't a dull moment.
I had watched my neighbor Randy Plath pull his big semi loaded with racing gear for several years, then Brian Hetrick of Gladstone, who raced as well, moved next door to him and I had two neighbors pulling out huge semi's driving to the races.
I had just teased my husband earlier in the week about what could be so interesting about watching those little cars racing in circles as he had tuned in the Sprint car races on television.
"It's slick he told me," and then I said something like it must be really boring to just be driving around in circles with those little boxes on top the cars. They look like toys.
It's ironic after all these years of living next door to a racer, that I really didn't have a clear picture about racing.
Television does not do it justice.
I became a little curious about racing when I stopped at Mike Hopkins garage in Gladstone and again, a large semi was parked there that had unloaded stock and sprint cars which he was working on. He allowed me to sit in one, and was I surprised how big they really were and how low to the ground you are sitting.
No way, would I ever race one of those.
Then right before the 4th, I went over to Brian Hetrick's where Randy was visiting and was watching all the work that goes into preparing these Sprint cars.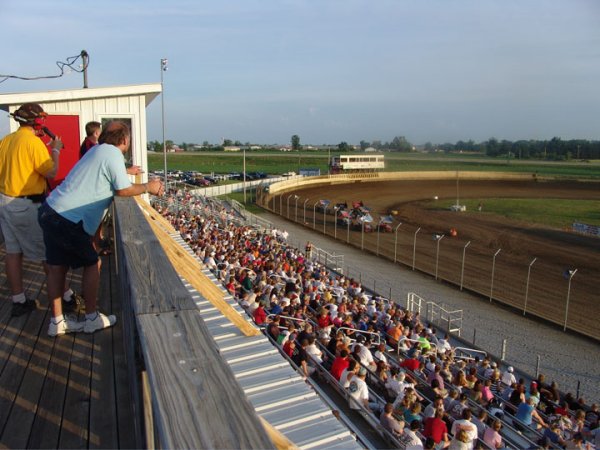 Brian had his dad (Jim) and an engineering friend Ryan Anderson helping doing work on the Sprint that had just taken its 3rd feature race with Brian driving.
They opened up the semi and gave me a tour after I asked why they needed such a big truck for a Sprint car.
I didn't realize it housed a whole mirage of tools, many tires, extra pistons and rods, and living/sleeping quarters with a kitchenette and bathroom, plus excellent lighting.
I instantly thought of the Disney movie "Cars."
I was invited to come to the 4th of July race, and I thought I would like to see my neighbors race, it might be fun. So Mike, my granddaughter Ali, and I went and experienced how much fun 34 Raceway was with the Sprint Invaders, Hobby Stock Cars, and Legend Cars.
We even heard a few familiar names from home besides Plath and Hetrick and enjoyed a great fireworks show at the end to celebrate our 4th of July American heritage.
The last feature race was the Sprint Cars which was so exciting to see. They were led by the pace car and then paraded around before they started the race.
The association that was racing was a tougher group and had drivers with a lot of hours under their belt. So Plath's driver and Brian Hetrick would be lucky to get into 3rd or 4th, I was told.
The race had a bittersweet ending as Plath's driver took the lead and after three or four laps, Hetrick was able to pass his neighbor. The crowd was going wild, and just about everyone was standing and yelling with these two in the lead.
As Hetrick came around the south end of the track his car almost stopped, and we were all sick. Then Plath's car stopped as well. Only five laps to win, and Brian had a breakdown, and Plath's car had engine trouble, and both were towed off the field.
The Hetricks and the Plaths retreated to the pits with other racers who had heart breaks.
Being in the pits has a double meaning for them, but everyone was congratulating them for quite the thrill they had given race fans.
I think I enjoyed the races more than my husband. I may not know the lingo, but I know now why people get the racing bug.
---