The Hancock-Henderson Quill, Inc.

---
Cruise
by Dessa Rodeffer, Quill Publisher/Owner
7 March 2007
My husband Michael and I enjoyed a 4 day 3 night cruise from Lost Angeles to Mexico's Baja Peninsula this past weekend.
Neither of us had been on a cruise before but after a frustrating week with the ice, wind and snow, we were ready for a vacation.
Our plane was to leave at 6 Friday morning from Moline, but the high winds and ice that came in Friday canceled our flight. Finally after talking to someone in India who was taking phone calls for United Airlines, we were able to get a 6 a.m. flight out of St. Louis. We had to leave at midnight to arrive for the 90 minute pre-boarding time. It was a hectic start but by 6:15 a.m. we were on one of United's few jets that gave me one of my most comfortable flights to Denver. We arrived in L.A. by 10:30 a.m. with plenty of time to make our 1:00 boarding at San Pedro Harbor where cruise ships dock.
We were assigned a Jr. Suite on the 10th floor with our own deck overlooking the ocean and our vacation began with touring the ship, talking to my daughter-in-law and some friends who were also on the cruise, and taking naps.
Entertainment was scheduled for 7 p.m. each evening and our time for dinner was 8:30 p.m. as the ship, holding 2500 passengers, was divided into two eating times.
I had signed up for a spa package on day 1 and was given a Seaweed wrap that was to relieve achy muscles, and it did that and more. At 6 p.m. our ship set sail and the sun soon began to set. What smooth sailing it was.
Our chef said 80 different countries were represented who were working on the Royal Caribbean Monarch Of The Seas. The service was fantastic as our table of four was served by 3 different people, bringing bread, taking our plates, filling our glasses. Never was our glass more than half empty. I enjoyed my Salmon, and Michael his steak and the waitress from Turkey was top-notch.
Entertainment was comedy, singers and dancers, and we especially enjoyed the dueling pianos. Michael went to the pool where they were having leg contests for the men in shorts.
We also watched several compete for the fastest time on the rock-climbing wall. Games of Family Feud, and a scavenger hunt were available as well as other entertainment. The spa and workout rooms were favorite places.
Michael made sure he brought a Quill along for a picture and as we docked in Ensenada we had a man take our picture.
When the final day arrived, we hated giving up all that attention for a trip to the ice, cold, and work at home, but the greener grasses of Illinois and home looked good to both of us when we arrived.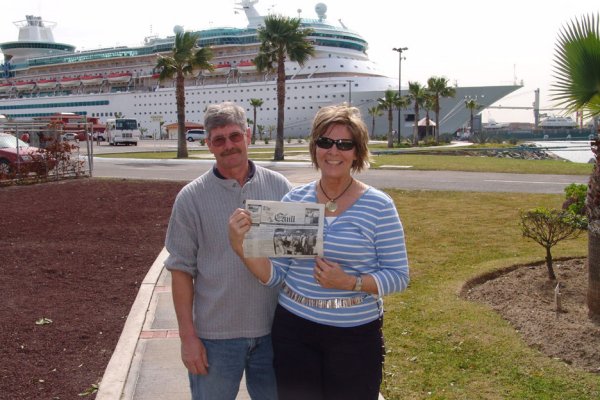 ---