The Hancock-Henderson Quill, Inc.

---
Spotlight: Welcomes Exchange Student
-by Holly Willdrick, Quill Staff
Many of you will recall reading the Meet Your Neighbor spotlight on Rod and Laurie Myers. and being told that they were going to be the host family for an Illini West foreign exchange student, Leonie Pheiffer from Germany.
They met with Aspect Foundation representative Tracy Hobby, and were given several applications to look over. After looking at several Leonie seemed to be the perfect match.
She enjoys horses, dogs and cats and that alone was enough to let everyone know that she was going to fit in perfectly at the Myers Ranch.
Leonie had requested to come to Illinois. Her brother had also been a foreign exchange student, however he was in Wisconsin, and she didn't think she wanted to be where it was so cold. He told her that Illinois would be warmer and that the people were nice there.
Rod and Laurie did leave the final decision up to Mariah, their daughter, and she agreed that Leonie was going to be the best fit for the family.
Leonie was very excited to come to America and the little town of La Harpe. It wasn't as easy to get here as they had all hoped, but she did make it.
The first obstacle they faced was getting the paper work and approval from a school that didn't yet exist. However, all the I's were dotted and T's crossed and Leonie would be the first foreign exchange student to attend Illini West.
Well, we all know how traveling can go and the problems that can arise. You miss one connecting flight and the rest of the trip is a mess.
After the Myers' made several phone calls, another flight plan was established and Leonie would make it to La Harpe without having to spend the night in the airport.
Once she arrived though, it was without her luggage, and she had to make do with what was in her carry-on bag for a couple of days.
After getting her luggage and some much needed rest, Leonie was out and about in the community.
One of the hardest things for her to adjust to is that we drive "everywhere".
In her home town of Loerrach, a town of 45,000, everyone rides their bike.
In Germany you can't drive until the age of 18 and even then a lot of people still ride their bikes.
"Sweden is about a 10 minute bike ride and they are also close to France and the Black Forest."
"There has not been any real culture shock," she stated. "We are a lot alike in ways."
The only other big adjustment has been that the school day is longer and meal times are different.
In Germany school gets out at one o'clock and they have their large evening meal around two o'clock.
"She doesn't think that I should have to cook at night" Laurie shared.
Leonie is enjoying her time here so far and hasn't been homesick yet.
She was sick one day and stayed home from school and ended up having to deliver ten baby puppies.
"I think she is prouder of those puppies than the mom is" shared her mother. So far that has made the list as one of the most exciting things that has happened.
However, she hasn't stayed home from school again.
Leonie shared that the hardest part about being here is the homework.
"There is a lot of it and it takes her longer to get it done."
However, when she does find some free time she likes to hang out with her friends, and to ride horses. She rides English style, but is learning the Western style of riding.
Back in Germany she was also a scout leader for ages nine and ten and was also in scouts.
The Aspect Foundation is still looking for host families for the second semester.
If you would like more information please contact Tracy Hobby.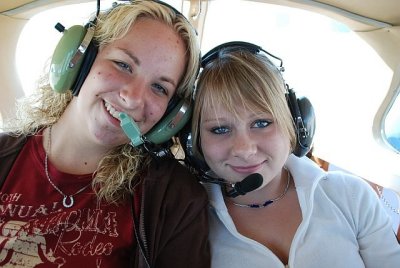 Mariah Myers with new sister, in exchange, Leonie Pheiffer.
---