The Hancock-Henderson Quill, Inc.

---
West Central FFA Hand Out Be Safe Packs
Harvest is a busy time and sometimes a crazy time at the elevator, as ever so often the unexpected happens.
But Ruth Gibb, Secretary-Bookkeeper, and now checking moisture levels on corn, says she, like many farm families, loves this time of year.
At the elevator in Stronghurst, Ruth said moisture levels are coming in at 15 to 22% on Friday.
Thursday, one came in as high as 28%.
"It's going to be a great harvest," she said, "with lots of 200 bu. acres."
They are already preparing for it by moving storage to the Gladstone Junction and preparing land across the highway near the railroad track.
Even though the bushels look high, there are higher expenses.
"Barge freight has gone up 800%," she said.
"Our prices are affected by what ADM pays us," she explained.
Stronghurst Grain & Merchandise's nine guys and six semi drivers have been putting in 12-15 hour days.
"We have 3 to 4 full time and hire five more during harvest time. We are managed by Kevin Box"
Everyone at the grain company are fast pace.
"Things go wrong, and there will be challenges this year, but our crew works well together and are experienced, so they have an idea what to look for," Ruth said.
Ruth herself puts in extra hours at harvest time working 7-12 and 1 to 5 or 7.
"We've hired someone to work an hour each time so I will have a lunch break."
The FFA members were in handing out food sacks with water, and food items to remind everyone to be careful during this rush time.
Two or three combine fires have already occurred in this area where firemen have been called.
Some businesses bring in food items. Catherine Burg brought in chocolate chip cookies.
All the food and thoughtfulness is appreciated.
Ruth said they have not even gotten past 10% of harvest.
"This is just the beginning of a great harvest."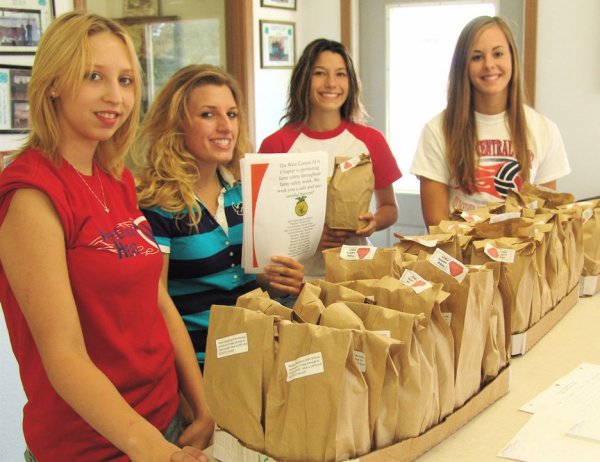 West Central FFA members, Ashley Huss, Kendra Kelly, Sarah Heller, and Abby Corzatt, hand out flyers and sacks with apples, fruit, candy bars, donuts, cookies and certificates for pizza to remind farmers in the field, and those busy running back and forth to the elevator, to be cautious and be safe during Harvest.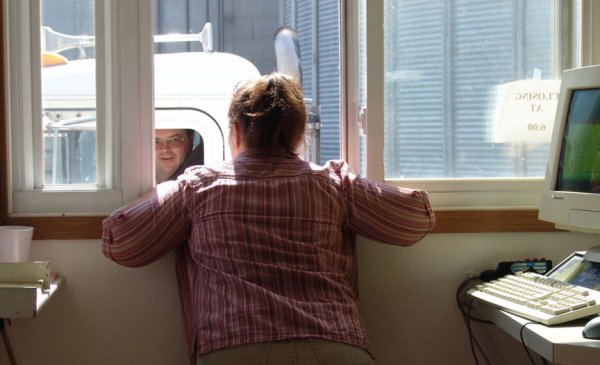 Ruth Gibb, stops to answer questions of one of Stronghurst Grain's six busy drivers Friday.
Ruth is checking moisture of the corn and took over Jean Stone's job in 1989.
---