The Hancock-Henderson Quill, Inc.

---
Take The Quill Along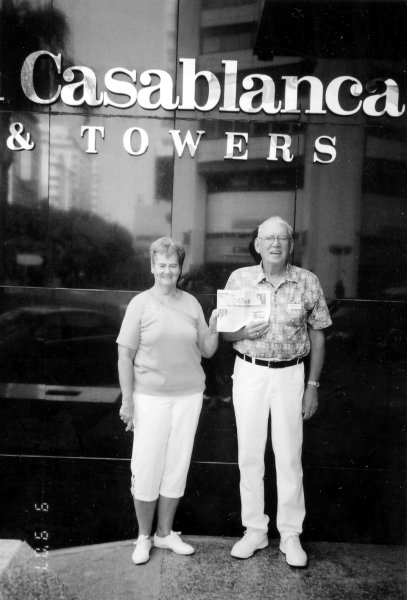 The Quill traveled half way around the world to Morocco, Africa with Larry and Mary Ann Kane of La Harpe, who just returned from what these well seasoned travelers call "the trip of a lifetime'.
The photo with The Quill was taken in front of their hotel in Casablanca. Following a flight to Madrid, Spain, they went by a Trafalgar Motor Coach to Toledo, Granada, Costa del Sol (Marabella) and then across the Straits of Gibraltar to the continent of Africa to Tangier, Marrakesh, Fez, Casablanca, Rabat (capital of Morocco).
After returning to Europe, they toured Seville, Spain; Lisbon, Portugal; Fatima and back into Spain with a stop in Salamanca; Avila and back to Madrid. A more detailed travelogue will appear at a later date.
When you go on a vacation, take the Quill along and have your picture taken with it. Let's see where all The Quill can go.
---