The Hancock-Henderson Quill, Inc.

---
Oquawka, He'll sing you an old song during Heritage Trails
Richard Matteson has been in Oquawka with his guitars for only five months now, but he is no stranger to Henderson County.
His grandfather is part of Oquawka's rich history, Dr. Elmer Swan, and Matteson himself was born in Burlington, Iowa.
"We lived across the street from the Kent Hamiltons about 50 years ago," Matteson said.
His mother, Ann Swan Matteson, grew up here and was a musican and his parents still have a cottage here.
Ann is now in Collge Park, MD, sings in the choir and teaches and plays piano and her husband sings in a Barbershop Quartet.
Matteson was surrounded with music. His father's parents both were musicians.
Matteson sings, plays, and writes books. He has written 12 books with the Mel Bay Publishing Company, one teaching book and songbooks and he just finished an accoustic source book for guitars. He will be writing two more while in Oquawka, one, Country Music, The Early Years 1922-1935 which will feature songs, biography, and history of singers such as Jimmy Rogers and the Carter family and Johnny Cash.
Above, Matteson is singing "Sixteen Tons" and followed it with "This Train" using his Japanese Alvarez hand made (top of their line) guitar.
His second book will feature "Country Music - 1936-1948" he said and will include Hank Williams, Ernest Tubb, and the creator of Bluegrass music in 1946, Bill Monroe.
While in Oquawka, Matteson was able to join a few other locals and play and sing at the G&O Alumni dinner at the Burlington Country Club in Iowa.
He has also been leading contemporary worship at a Methodist Church in Burlington each Sunday.
Matteson is a teacher and writer first, he says, and then a performer. He taught 80-90 students a week for 25 years in two North Carolina Universities and taught in Music stores.
Matteson said as a teen, he was a typical youth who liked the pop rock of the 60s, but today he loves the Bluegrass music and the early years of country music.
"I'll be in Oquawka for a couple years, before I leave," he said.
 He is helping arrange and promote the following activities for Oquawka's Henderson County Heritage Trail this weekend and will be singing solo and with the Bluegrass Messengers.
Fortunately, he has worked on the sound system which had needed attention.
Entertainment will be at the Oquawka Museum and Complex:
Saturday September 29th 9:00 AM until 9:00 PM  
Sunday September 30th 10:00 AM until 4:00 PM
Music: All day Saturday 29th featuring live music by nationally recognized band Bluegrass Messengers;
West Central HS Vocal Chorus and soloists; Fred Dixon Bluegrass Band; and a street dance at 6:00 featuring the band, Country Crossover. 
Sunday 30th will feature Oquawka Methodist Church Choir (10:00); Silverado; Bluegrass Messengers; Line Dancing; Power and Praise; Junior Talley "Elvis Impersonator"
Parade; Special Events: Pet Parade (10:00 Saturday); West Central High School Art Display and Mural presentation; Pie Eating Contest; Civil War Reenactment; Vintage Parade (1:30 Sunday); Line Dancing; Eagles Dunk Tank; Vendors; Arrowhead Collections
Tours/Open House:
Oquawka Museum and the historic Phelps House will be open 9 to 4 both days.
Food: Refreshments and food by Eagles Club and vendors.
Boy Scout Troop 61 will be serving pork chops and hot dogs on Saturday at the end of Main Street in Oquawka during Heritage Trail.
The Oquawka Fire & Rescue will serve center-cut pork chops starting at 10 a.m. on Saturday and Sunday at the Oquawka Fire Station.
Information: 309-867-3206 or 309-867-5451.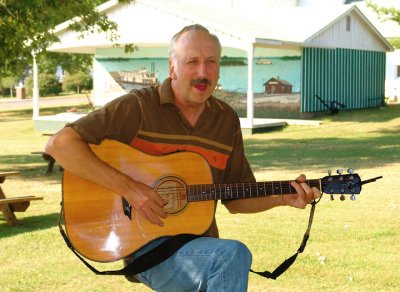 Richard Matteson has sung with Country Hall of Famers Doc Watson, Roy Clark, and Chet Atkins and will sing with you too, at the Oquawka Museum complex this Saturday and Sunday during Heritage Trails, 28-29.
---