The Hancock-Henderson Quill, Inc.

---
80-Year-Old Terre Haute Native Will Run Again
In The Quad Cities Marathon Sunday; Her 21st
by Dessa Rodeffer, Quill Publisher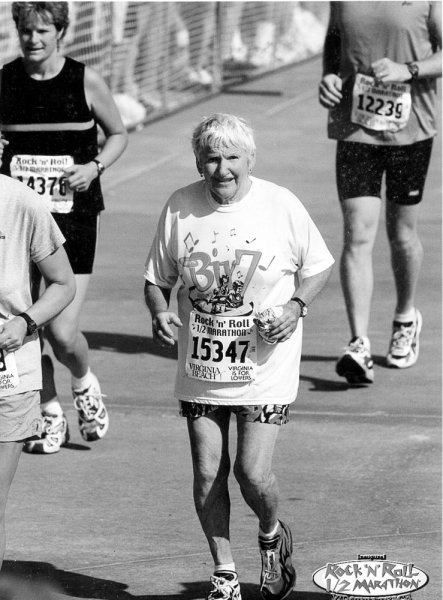 So, you don't run. What is your excuse?
For 80-year-old Mabel (Scanlan) Velge, it is the running she does that keeps her feeling good.
Mabel, a Terre Haute High School graduate of 1944, will be running half a Marathon Sunday, 13.1 miles.
Mabel graduated from college and went to work at the Rock Island Arsenal as an accountant until her retirement at age 58. It was there a young man came to work from Iowa City who was a runner. While breaking him in, he encouraged Mabel to walk with him at lunch.
"Then, he asked if I would run. After seeing me, he said, "you could be a runner'.'
"I started thinking to myself, maybe I can."
At first, Mabel was having some trouble. He told her she would have to stop holding her breath and breath while she ran.
"I couldn't get my breath. I would hold it for about 3/4th a mile, but then I started breathing and I was able to run."
So, Mabel retired from the Arsenal after she had taught acounting to her replacement, and he had taught her how to run.
"I was sixty when I ran my first marathon (26.2 miles). After I finished that, I thought I could do anything."
In 2002, Mabel finished her 20th Marathon in Anchorage, Alaska.
This Sunday during the Quad Cities Marathon, Mabel will be running half a Marathon, and with "no problem.
"Well, the whole thing will be a problem," she laughed, "....not really. I'll be running and walking 13.1 miles.
Mabel had gone through some health problems, 3 major surgeries, colon cancer and the like that slowed her down the last five years, but that's finally over. "I didn't do the chemo and radiation, but let's not talk about that," she said.
Mabel said it was the running that helped her get through it all, and she feels great now.
"Running has helped me get 20 to 50 friends since I started. I find I am 100% accepted with all ages and I never have felt too old.
Mabel worries sometimes about the same thing all people seem to worry about, her weight and her health. I weigh 135 lbs, but I would like to lose about 5 pounds, she said.
She tries to run daily at least five miles, and looks forward to it.
She must feel great for she just finished running the BIX-7 in Rock Island and ended up 2nd place in the 80 and above category, missing first by 5 seconds.
"I stopped and hugged and talked to too many people, and slapped little kids hands, so I ended up taking home the second place trophy. I thought if those little kids were going to get up at 5:30 and come out that early to watch, I was going to give them a high-five.
Mabel said when she was 60 she had won the BIX-7 in her age group.
"It's 7 miles, but a tough race up and down hills on Black Hawk Road, beautiful but grueling."
For seven years, Mabel has been an active member of the Corn Belt Running Club.
While she was membership chairman, the group grew to 2800 members, the 3rd largest in the United States after New York, first, and Chicago in 2nd.
We have the Augustana running track where we meet every Tuesday night and some of best running-bike trails you'll find. You can run or bike from Rock Island all the way to Savannah.... - almost to Chicago. The track begins at Sunset Marina Park.
At one time her running club would meet and run from a different eating establishment every night and then return to eat and enjoy the evening.
"We were in Putters one evening and a young fellow came up to me and said his wife knew me because her mom went to school with me."
"I've been trying to remember their name to find out who it was ever since."
It turns out that the girl was a daughter of Glenn and Helen (Purdy) Cox. Also, Terre Haute graduates, class of 1948. There were 5 from Terre Haute and 8 from La Harpe in my class.
There was Marilyn Louden, Eugene Inghram, Jim Stevenson, and I keep in contact with Lois Jean Kirkenslager out on the west coast."
Marilyn was so funny. We would go out into the corn field and she would throw her knees out of joint to make me laugh.
It wasn't so funny later, as Marilyn's legs would go out of joint on their own and she has a lot of trouble with her legs now. Mabel is a widow since 1988, and she has a grown son, Steve.
"I can't wait until the next school reunion. It is so much fun," she said.
After running in the Quad Cities 10th anniversary Marathon Sept. 23rd, Mabel is looking forward to running the 10 miles-St. Paul in Minnesota, October 7th.
"It's a beautiful run with seven lakes. There will be a bus load of about 30 of us from here," she said.
Mabel says she never carries water, but finds it along the way. She said you can also set it along the track you race before you run and pick it up. She encourages us to take part.
The BIX 7 is the last Saturday in July.
"We run the race in Davenport, Iowa every Thursday night in June, so we are prepared. My best time was a 9 minute mile, and best race was 4 hours, 10 min. 47 sec. in Milwaukee in a 26.2 mile Marathon.
"My advice is to find somebody to run with that wants to do the same speed you do and laugh and talk and have a lot of fun." It's her secret to the fountain of youth.
---