The Hancock-Henderson Quill, Inc.

---
Crim Celebrates Ten Years and Community Welcomes New Doctor!
by Holly Willdrick, Quill Staff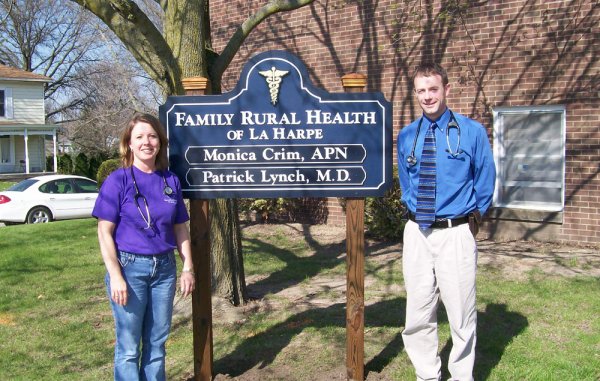 As of September 1, 2007 Monica Mueller Crim celebrated ten years of service with the La Harpe Community.
A lot has changed in those ten years! The most important was Monica's purchase of the La Harpe Davier's Clinic so that she could continue to serve this community.
The clinic is now known as the Family Rural Health of La Harpe where Monica continues to see a full schedule of patients daily.
"There is a large population in the surrounding 7-12 miles who need care and have little time and who have financial troubles, and I hope that I can help in those areas."
Being an independent clinic, patients also have the freedom to choose their doctor and the hospital they would like to go to.
Monica is also able to provide prenatal care through Dr. Eckman in Macomb or Doctors Lynch or Jones in Carthage. All visits up to 32 weeks of pregnancy can be made with Monica.
This is to help busy moms and first time moms cut down on some of that drive time and time away from home.
Monica said that she knew from a very small age that she wanted to be a nurse. She had no idea that it would take her to where she is today.
Growing up she observed her Grandfather, the late Dr. B.I. Mueller, tend to the health needs of the La Harpe community for 50 years.
Although Monica is not sure she will break his 50-year record, she is looking forward to the next ten years of serving the community.
"I love working with all ages, from newborn to elderly. In ten years I have watched a lot of kids grow up.
It is just like another family and I get to watch and be part of their lives." Monica is the daughter of Boyd and Judy Mueller and has spent all her life here in LaHarpe.
She has been married to her husband Brandon Crim for 18 years this past August. They have two children, Jared (13) and Tori (10). In her free time she likes to spend time with her family and has recently taken a position with the Military.
On occasional weekends she will go to different bases and help with Post Deployment Health Reassessments. These are done 3-6 months after our soldiers come home. Most of the time it is a 48 hour trip so that she can be back at the clinic Monday morning ready to see her patients. Also seeing patients at the clinic is Dr. Patrick Lynch. Dr. Lynch came to LaHarpe after the retirement of Dr. Pogue.
He has been a doctor for 5 years and has practiced in Carthage for two of those years. He knew he wanted to work in a small community and the Carthage Hospital was a wonderful fit for him and his family. Shortly after he started at Carthage several of the staff had lunch with Monica to introduce themselves to her and among them was Dr. Lynch.
When it came time for Monica to look for a doctor to fill the shoes of Dr. Pogue she requested Dr. Lynch. At the time they said he was very busy with his own practice and the hospital and didn't know if he would be able to take on another clinic. They however did have another doctor, but during the processing period that doctor moved and Monica got her wish and Dr. Lynch was on board.
"We have a great working relationship, he is very personable with the patients...he treats them like people and not a number...he sits and talks to them. He reminds me of my grandfather." shares Crim. Like any job Lynch says it has its ups and downs, but he loves working in the rural community and finds it more enjoyable because it doesn't have the corporate medicine feel.
Lynch also likes the fact that between the Carthage Hospital, his own clinic and Family Rural Health of LaHarpe that he is able to treat patients county wide. He like Monica says that the "community has become an extended family and have let me know how appreciated I am and that is a wonderful feeling".
Dr. Lynch, his wife Trina (who works with him at their practice) and their three sons recently experienced this appreciation and out pouring of love from the community when they welcomed their third son to the family. "There were some complications with our third son and I don't think we have had to cook at our house for the last month.
I helped them or their family and they are paying me back by helping me and my family. It is a wonderful feeling." Their youngest son is now 2 weeks old and has two older brothers (7 & 2) ready to show him the world. Patrick is the son of Tom and Jan Lynch of Charleston, IL and has one older sister who is also in the family medicine field in Wyoming.
He is trying to talk her into coming back to Illinois. He also has two younger brothers one of who is a Geologist on an Oil Ringer in the Gulf of Mexico. The other is in the Special Forces Green Berets as a Medic and is getting ready to be deployed.
Dr. Lynch also spent some time in the Military. He attended West Point and after graduation you have to serve a minimum of five years. Lynch served six years in the Army as an armor officer and tank operator.
It was after his time in the Army he decided to become a doctor and started schooling after he served his six years. In his free time (HAHAHA) he likes to take his boys camping and going hiking and biking. Growing up his father was a hot air balloon pilot so he has been up many times. He also traveled to Europe, East Africa, Mexico and Japan while he was in active duty with the Army.
We have two wonderful people taking care of this community who are dedicated to taking care of our needs. Make sure to tell them thank you and congratulate Monica on her ten years of service. "We are dedicated to the same quality service as my Grandpa Mueller" - Monica said.
---