The Hancock-Henderson Quill, Inc.

---
Spotlight: Dream Encourages Wood's Success In Hanger3
-by Holly Willdrick, Quill Staff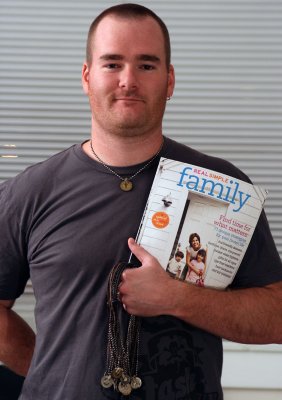 Dustin Wood, formerly of La Harpe, is seeing his dreams come to life.
Several years ago Dustin woke from a dream and remembered very vivid details.
In the dream he was walking through a clothing store. This was a shock to him since he had known nothing about clothing. The theme of the store was the WW II era with the main focus being airplanes.
The walls were covered in old airplane metal. Shelves made from wings and various decorations from old airplane parts were though out the store.
It was from these images that Dustin started to base his ideas on.
Years later, when he still had the vision in his head, he tried to sketch out what the store would look like and started thinking about how to get it started.
The name of the store, Dustin's Hanger3, comes from the idea that airplanes are stored in hangars and clothes get hung on hangers. He knew he wanted the number to be low so it would be easy to remember and when setting up his webpage, three was the lowest number available.
Dustin's original plan was to start with T-shirts.
"If I was going to do shirts, I was going to do it the legit way, and completely unique."
However, it was those unique ideas Dustin was struggling with. He decided that he had to come up with something else.
"What else would people buy besides t-shirts?"
That is when it hit him...and that is how he now has urban inspired necklaces.
These necklaces are transit tokens from around the nation. They come from subways, buses, trams and trains.
Each necklace is hand made, antiqued and aged. They are then put onto distressed leather or aged chains.
Besides retail stores there seems to be no other person who has done this same thing.
As Dustin was trying out different looks for the necklace he would post prototype photos on a message board for people to critique.
One gentleman was very taken by the product, Dustin said. He was "Tony" from Arizona, and was the first to purchase a necklace after seeing the design for the leather.
Tony put in a special request for the Indianapolis leather, which Dustin hadn't made up yet. So the first sale was of a necklace that wasn't even for sale yet.
Dustin's Hanger3 Necklaces grew from there and were recently featured in the unique gifts section of Real Simple Magazine the Family Fall 2007 edition.
This edition should be on shelves until October 8. It was after this publication that he was notified that they would like to also use his product for a segment that was to be on the CBS Early Show.
Dustin was thrilled and was told that the segment would run on September 14. The Early Show is on from 7 to 9 a.m.
Dustin is the son of Richard and Donna Wood of La Harpe and has one sister Marcy.
He graduated from La Harpe High in 1999 and went on to attend Parkland College in Champaign. He graduated in 2003 with two degrees, one in Graphic Design and the other in Web Design.
After college he worked for an e-commerce company that sold quilt patterns online.
In his two years there, Dustin learned more about quilting than any man should ever have to, he said.
He then moved on to Toledo, Ohio where he took a position with an advertising agency that deals with all sorts of mediums (print, web, TV, etc).
It is in his free time that Dustin finds time to work on designing Hanger3's website and his products.
For right now, Dustin is doing all the work himself, aside from the time when his family took vacation to visit him. At that time, he put them to work.
But, yes, Dustin does do it all. From design, making, packing and shipping to the managing and marketing.
"I love what I do" and even if he had to hire a team he would still be very hands on with the branding of products.
"I don't think I'll even fully retire from this profession," he said.
Now that Hanger3 has its foot in the door look for those creative t-shirt ideas to pop up on the website (www.hanger3.com).
"And to make my dream come true," he predicts, "you may very well be walking though the mall, and be able to walk through a Hanger3 store."
He tells others, "I encourage anybody with any kind of dream to keep pursuing it. Start small and work you way up. I have!"
Be sure to catch the The Early Show on CBS from 7 a.m. to 9 a.m. on Friday morning. Catch a glimpse of how a dream inspired the success of a local boy.
---