The Hancock-Henderson Quill, Inc.

---
Joneses Enjoy Henderson County's Old Tyme Show
by Dessa Rodeffer, The Quill Publisher/Owner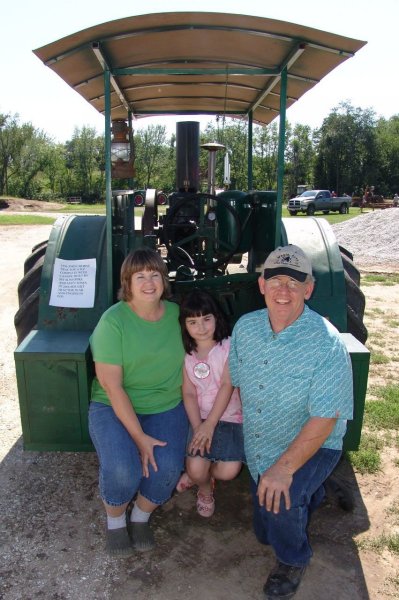 A lot of people attend Henderson County's Olde Tyme Show for a lot of different reasons, but Mike Jones comes to Henderson County because it is small enough you get to talk to everyone and he is able to display several of his refurbished items.
He and his wife Sharon live nearby in Monmouth and operates his family owned automotive service, Jones Auto Center on 402 South Main.
One of his two sons works by his side, 35 year old Mike Jr. His twenty-year old son, Matt, works on a NASCAR pit crew in Moresfield, NC. with Eddy Sharp Racing.
But Mike's interest is rebuilding old things or creating something useful out of things. He was filling a bubble machine he had made 5 years ago to entertain kids and adults.
He also had an oil field engine on display he had purchased in West Virginia which had been used to pump oil. "Many in Southern Illinois are still using these oil wells 24 hours a day, 7 days a week," he said, and he explained that some are in this area.
It has a unique natural gas pump, he said, and it can run the engines very economically. He said it was used in the 1890s and weighs 6,000 lbs. It oil rig runs on two engines that are 15 HP each.
You might see oil being pumped in our area, if you look.
There is one rig between Macomb and Beardstown on 67 and it can keep on pumping while the corn is high and you'll never see it, he said.
The ones in the area only pump depending on the price of oil. They sell their oil to Marithon Oil who ships it to the gulf coast and out of the country.
Mike was displaying a 36 AR John Deere donor tractor (not original) which he fixed up and it was getting a lot of attention by those attending the show. He , his wife and granddaughter are pictured with it here.
He put in a 1917 Fairbanks engine with 6 HP. He said in high gear it might go 4 mph. He said it bounces when you start it up.
Mike grew up on a farm between Monmouth and Little York. He started to restore tractors at his automotive business and it has just grown.
He is a founder of Maple City Antiques that is in its 7th year which now is 100 strong in membership.
Their biggest show is in the Galesburg Mall in March. In late October they have Plow Days near Farm King where they plow with old equipment.
Mike was planning on going on to Old Threshers in Mt. Pleasant, Iowa to show.
Later he was planning on attending Jerry Weibel's antique sale of farm equipment on September 16th.
Mike said he has collected and restored a lot of antiques but recently was able to give a tractor to his brother in Cape Cod who wanted to display it in his town. His brother drove 1300 miles just to pick it up, Mike said.
Mike and Sharon's granddaughter, Alyssa Croxton, 6, of Minnesota was enjoying the show, playing games with the kids, and watching the action.
Mike plans on being back next year to Henderson County's annual event.
---