The Hancock-Henderson Quill, Inc.

---
Fred Gibb Memorial Car Show - The Stories
What A Shine!
by Dessa Rodeffer, Quill Publisher/Owner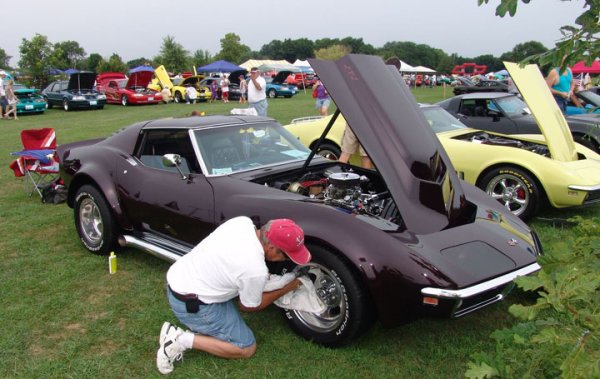 This 1969 Stingray Corvette has quite a shine, due to the care that its owner Rick Carpenter of Macon, Missouri puts into her.
Carpenter has owned the car sine 1974 after its owner out of Peoria wrecked it and it was put up for sale. Carpenter purchased it for $1300 wrecked and in his body shop, restored the car.
"I would have been 24 at the time she was created and would have loved to had this car but couldn't afford it. Now I'm 55 and I think it is kind of nice to bring back the old muscle car to its former glory.
Carpenter enjoyed walking to work, drinking a cup of coffee, listening to his favorite radio station as he completely overhauled the Stingray. It brought him "big satisfaction."
He did the whole car putting in a 350 cubic inch engine, chrome plated rear suspension and he has a spare tire carrier. He converted the convertible to a removable top to give more storage room. In all, he's put $15,000 into the car not counting labor, but he has turned down $70,000 for this jewel.
All Carpenter can say is, "It is worth taking care of and improving stuff."
Carpenter's StingRay gets 19-20 miles per gallon and he says he uses 50/50 racing fuel when he can otherwise regular premium (93 octane). "I enjoy coming to the Gibb car show, and the response I receive here. People are so appreciative."
As he continued to polish his car, you could tell he was a perfectionist, and that he really loved his 1969 Stingray and for good reason, It's a beauty.
---