The Hancock-Henderson Quill, Inc.

---
Meet Your Neighbor
By Susan Galbraith, Quill Staff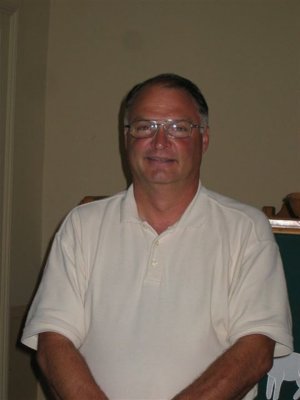 Meet Your Neighbor Pastor Jeff Robbins of the Oquawka United Methodist Church.
Pastor Robbins was born in Winston-Salem, North Carolina, and raised in the foothills of the Blue Ridge Mountains of Virginia.
He graduated from Liberty High School in Liberty, South Carolina, and Clemson University in with a degree in Industrial Management in 1979.
He is married to the former Roberta Davilla, and they have 6 children. Courtney, (John) and Kale; Ned Adams, (Melissa) and Stephanie; Jeffrey (Julie) and Evan; Peter Adams; Timothy (Tiffani) and children Mishayla, and Vincent; and Kaitlin (David) and Braven.
Son, Jeff, was decorated for his military service in Iraq and son, Tim, will be going to Iraq soon,
His parents are Hal and Lillian Robbins of Seneca, South Carolina. His father retired three years ago but was called back to pastor a church in Altavista, Virginia. His mother, Lillian is President of the Wesleyan Women's Conference and also plays the piano at church.
His sister is Rev. Yvonne Beasley (Earl) is an associate Pastor of Asbury Methodist Church in New Port News, Virginia. He had one brother, Eddie, who was killed in a motorcycle accident 3 years ago.
He and Roberta live at rural Blandinsville, on a farm, and love living in the country.
He enjoys high school and college football and on Saturday afternoons you will find him relaxing in front of the TV watching his favorite sport. He also enjoys fishing, horses (he used to raise quarter horses) reading and spending time with family.
Earlier in his career he was an Aviation Administrator, coached high school and college football for 25 years and in the late 80's he was asked to teach Aviation Security courses. Also doing operative work for the Federal Aviation Administration in the field of governmental aviation security and anti terrorism.
He also was a police officer in McKenzie, Alabama, taught school and was pastor of three United Methodist Churches.
Presently Pastor Robbins is in his first year as assistant football coaching at West Central.
One of his precious memories is traveling, by train, to High Point, North Carolina, to stay with his grandmother.
He boarded the train in Virginia and traveled to Carolina to spend time during the summer. He said, "It was the thrill of a lifetime."
---