The Hancock-Henderson Quill, Inc.

---
Illini West Chargers End Season In State Playoffs
Illini West Lose In First Playoff Game Saturday
-by Michael Rodeffer, The Quill
Carthage: The newly formed Illini West High School Chargers made it to the 3A football playoffs in their first year with a 6-3 record.
Their opponent was Savanna West Carroll with a 5-4 record.
Illini West took the opening drive to midfield and stalled out. They faked a punt but Bryan Rodeffer was stopped a yard short of the first down.
Illini West cornerback, Brett Cook, came up with an interception to give the Chargers the ball back.
After a 12-play drive Illini West was forced to punt. West Carroll then mounted their first scoring drive of the game.
West Carroll quarterback, Chris Anderson, then went to work. He completed 2 of 3 passes for 34 yards during the drive with 11:54 left in the 2nd quarter.
Anderson drove 2 yards for the first touchdown of the game. Anderson passed to Keegan Murphy for the 2-point conversion to give West Carroll an 8-0 lead.
On their first possession Illini West drove the ball inside of West Carroll territory before losing it on a fumble. After alternate possessions West Carroll took the ball down to the Illini West 15 yard line.
The Chargers defense stiffened up and held West Carroll short of a first down.
After the Chargers were forced to punt. West Carroll's quarterback, Chris Anderson, tossed another interception to Illini West's Dakota Hicks with just 15.8 seconds left in the half.
After gaining 16 yards on 2 plays Illini West quarterback, Michael Lafferty, passed to Chris Harrell in the end zone but could not quite come up with the ball. Halftime ended with an 8-0 score.
In the second half West Carroll took their first possession and drove it to the endzone. Tyler VanDerdooren scored on a 5 yard run with 8:29 left in the 3rd quarter for a 14-0 lead.
After holding Illini West, the West Carroll team went 10 plays for 81 yards. Again Tyler VanDerdooren scored on a one yard run. Anderson to Adam Ferguson pass for the 2-point conversion made it 22-0 with 1:06 left in the 3rd quarter.
West Carroll added another touchdown in the 4th quarter for a final score of 28-0.
Defensively for Illini West, Derek Van Fleet, Skyler Pence, and Dakota Hicks were in on 9 tackles. Jacob Schmudlach was in on 8 tackles, Matt Snyder in on 7 tackles, and Alex Bundy in on 4 tackles.
Offensively for Illini West, Stefan Flynn rushed for 142 yards on 26 carries, Bryan Rodeffer had 44 yards on 15 carries, Michael Laffery had 11 yards on 3 carries and Mitchell Beals had 5 yards on 2 carries.
Michael Lafferty passed twice for 28 yards with both catches to Kris Vincent.
West Carroll's quarterback, Chris Anderson, proved to be too much this day for the Illini West as he made good on 13 of 20 passes for 157 yards and ran for another 178 yards with 2 touchdowns.
Illini West ended their season with a 7-3 record.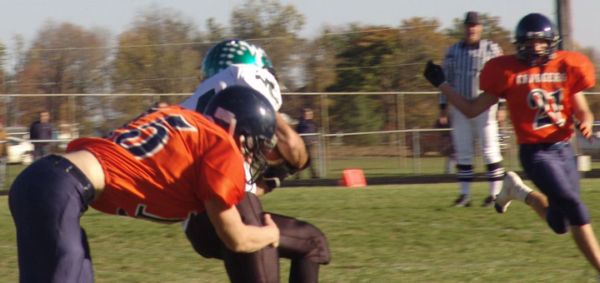 Charger #15 Derek VanFleet, (LB 5'11" 165 lb. Jr.) tugs at a West Carroll ball carrier with Matt Snyder #21, nearby.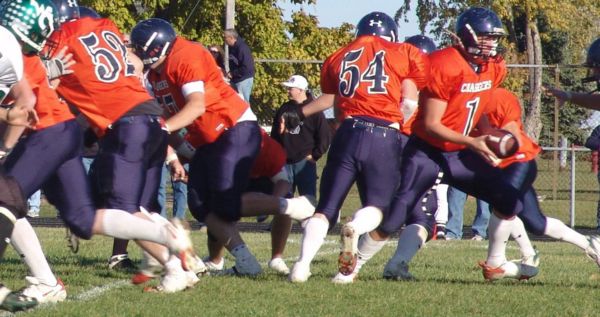 Illini West Charger Quarterback #1 John Unruh, 190 lb. senior, hands off the football during a tough playoff game at Carthage Saturday against the West Carroll team. The Chargers ended their successful season with a 7-3 record.
---