The Hancock-Henderson Quill, Inc.

---
Take The Quill Along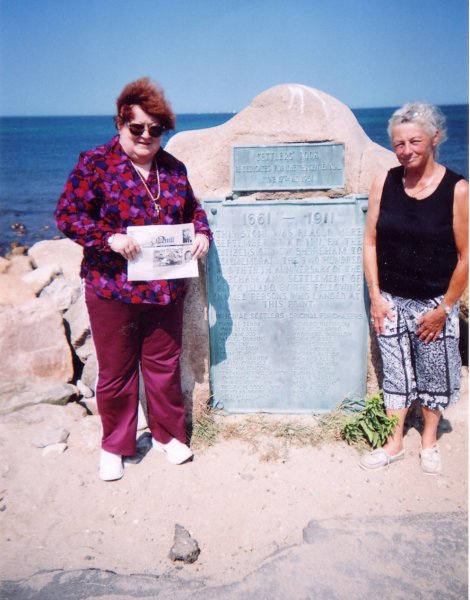 The Quill traveled with Maggie Rathbun Jones on September 8, 2007, to Block Island.
Maggie's grandfather, John Rathbun, was one of 16 original purchasers of the Island in 1661.
This island is located south of Newport, Rhode Island, and is 7 miles by 3 miles, (7000 square acres) in size.
While on the Island, Maggie visited the cemetery where her ancestors are buried.
The highlight of this day was seeing the family Rathbun Bible that John Rathbun brought with him, from England, when he first arrived in Massachusetts in 1634 from England. It is kept inside a special treated box and is locked up in the archives.
The lady at the museum wore special gloves but did turn the pages for me to see the hand writing of the names of births, baptisms, marriage and deaths.
The wind was blowing 30-40 miles per hour-therefore the "special hairdo".
This picture was taken in front of the rock on the north end of the Island and shows the names of the original buyers on the left and original settlers on the right.
Also pictured is Mrs. Rose, who is also a decedent of original owner and settler. She just happened to be the taxi driver. She was born and raised on the Island.
---