The Hancock-Henderson Quill, Inc.

---
Train Derails In La Harpe
by Holly Willdrick, The Quill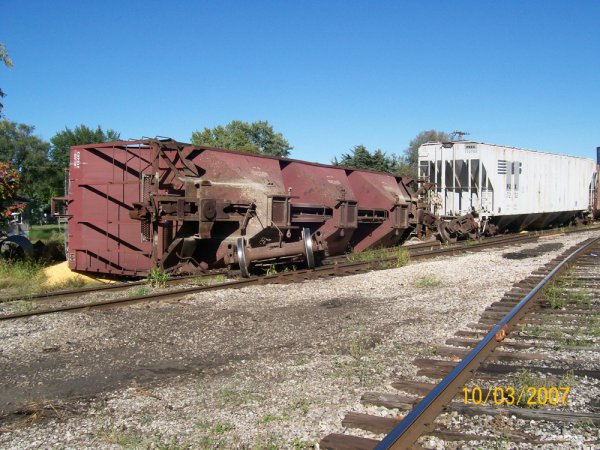 A train from the Keokuk Junction Railway, a branch of Pioneer Railcorp out of Peoria,carrying an estimated 35,000 bushel of corn derailed after just being loaded at the La Harpe Elevator last Wednesday around 1:00 p.m.
The first two engines and one loaded car made it through before the second loaded car derailed and tipped over causing the remaining three cars to derail as well.
The last car blocked the crossing until they were able to set it back on the track early that evening.
In order to do this they hook an engine on to the derailed car and used cribbing and other tools topull the train back onto the rail.
They then attempted to salvage as much of the corn as they could and have estimated that only 200 bushelhave beenlost. The remaining corn on the ground will have to be hauled off.
Two cranes were brought in from C.R. McDowell out of Keokuk and Muscatine, Iowa. It took the large cranes several hours to set the tipped over car back up.
Once it was "swinging" in the air they maneuvered it into place over the wheels that had been reset on the tracks.
All of the cars were back up on the tracks around 6:00 p.m. on Monday night.
Originally, the railroad thought they would have to scrap the car that had tipped over but after accessing the damage once it was set up they believe that they will be able to repair the damage and continue to use it.
The cause of the derailment is still under investigation. This is the first time since the late 80's that the La Harpe Elevator has had a car tip over.
They have had derailments in the past but nothing to this extreme.
The La Harpe Elevator was able to continue it services to the community during the last few days and were still able to ship corn out.
Normally the cars ship out to the west but for the time being are going east instead.
They will continue to ship out to the east until the remaining clean up and track repairs are completed.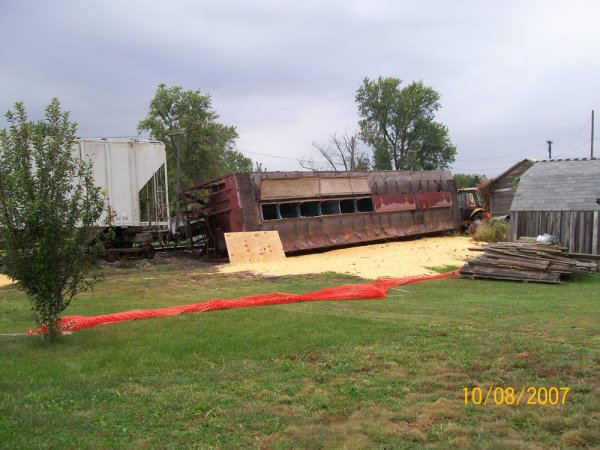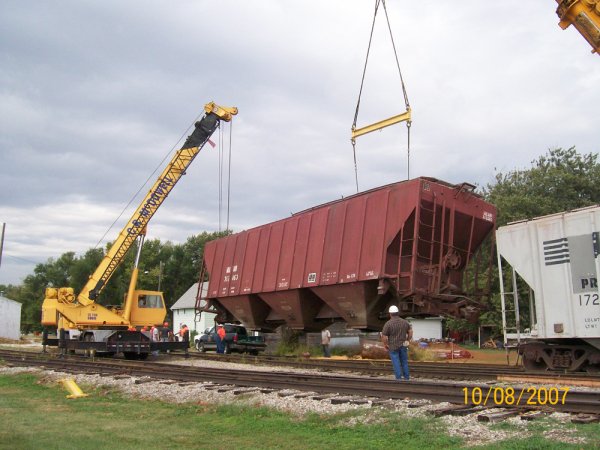 ---