The Hancock-Henderson Quill, Inc.

---
Play Tells of North Platte's Generosity During War
by Dessa Rodeffer, Quill Publisher
Last weekend, the dramatic play of the North Platte Canteen, was performed to a full house both on Friday and Saturday bringing all kinds of emotions of this true World War II Nebraska experience.
It was around Chritmas, and a disappointed group of women with arms full of packages and baked goods, were expecting to see their own kin get off at the Union Pacific train station as Company D was scheduled to arrive. But, it was another Company D from another state. They put their heads down, turned to leave when one woman decided she would
give her gifts to the soldiers anyway.
"It is Christmas, and they are somebody's sons and daughters," she said and she hoped someone would do the same favor for theirs.
The play showed a little glimpse into the big hearts of the people of North Platte, Nebraska and how they touched the lives of thousands of young GIs who served during WW II, not knowing if they would ever come home again.
From that day in December 1941 at the Union Pacific Depot, their idea turned into a daily feast as the town met every train with food and warm greetings, sometimes music during their 10 minute stop in Nebraska.
It brought a little bit of home to thousands of soldiers who stopped at the refueling point where all east and west bound trains had to stop.
The play came about as part of a reading promotion for the "Turning Pages Book Club," and their yearly "Henderson County Reads" promotion.
This year's promotional book was "Once Upon A Town" by Bob Greene.
According to the book, North Platte, Nebraska was a town of 12,000 people yet they greeted 6 million men with as many as 20 trains a day
"Sometimes as many as 7,000 or 8,000 people came through this little town."
And the men pulled in, looked out the train windows, and saw the locals waiting for them with a smile and a meal.
The play depicted personal accounts at the Canteen taken from a 30 minute script written by Karol Bankson Recknor (right) a speech and language pathologist. She lives in the center of Nebraska and she is the Drama Coach and had written the 1-act play for a high school competition.
Karol said the play had been written for the students in mind and much research was done at the local North Platte, museum on the Canteen.
"Our play was partially judged on authenticity," she said and they received high marks for using a 48 star flag.
Her research proved interesting as she found out such things as the secret code they used when a train of GIs were coming through as most times it was not allowed to let those at the Depot know when the train was carrying soldiers.
They would just telegraph "Put The Coffee On," and the women would know to get the food ready, Karol said.
Karol found out other things such as:
¥ the Union Pacific Depot donated their big room.
¥ it was the biggest train yard for every train going East or West to refuel or rewater, load coal, or switch trains.
¥ they were usually there 10 minutes but could be up to 1/2 hour. While it was a necessary stop, soldiers were allowed to get off
¥ The canteen ran from Dec. 17, 1941 until April 15, 1946 non-stop.
¥ Their first stop they thought it was their boys but it was another Co. D from Kansas.
¥ They went ahead and met every train because it was somebody's loved ones and they hoped someone would do the same for them and take care of their kids.
¥ They met every branch of the service.
"It was fun," Karol said. "We got photographs to help us look authentic.
"It was fun and the kids got really excited," Karol said. "We studied how the war began, the Jitterbug and music of the times, and watched documentaries on the subject. We also read a chapter out of Mr. Greene's book about the Canteen.
Karol said "the platform girls" were ages 16 to 20, young pretty women, used as hostesses to encourage the boys to get off the train and eat.
The younger girls wanted to help and were dancing the Jitterbug, which one young girl reported that a soldier said "He'd rather dance than eat."
This offended some of the women who wanted them to come and eat all they had prepared, Karol said.
The soldiers gave their ensignias off their jackets to girls as a thank you and another soldier from a different branch of the service would say, no have mine, it's better.
Karol said in the museum, was one girl's jacket covered with ensignias soldiers had given her after dancing the Jitterbug.
Another thing she found is that women went without sugar for themselves to provide for the canteen and used honey at home in its place.
"They thought about the war every single day. I don't think they do that today," Karol said.
According to Bob Greene in his book::
".....during their 10-minute stops, they were greeted with chicken and egg salad sandwiches, coffee and free magazines. Volunteers from North Platte and 125 farming communities from around Nebraska came to the canteen. They took turns preparing meals for the GIs. The locals would stay up all night cooking chicken and "in an assembly line they would make hundreds or thousands of sandwiches in a day," Greene says.
The 30 minute script of Karol's was revised for the Heritage Trails showing to include more adults rather than just high school students.
One vignette showed a romantic episode of a GI who received one of many popcorn balls with little slips of paper tucked inside with the addresses of local high school girls or young women for the soldiers to write to.
A few women ended up marrying men who found their names in the popcorn balls.
Burlington, Iowa's Aubrey Draper beautifully played the part of the young girl who in a letter campaign, fell in love with a soldier and married him.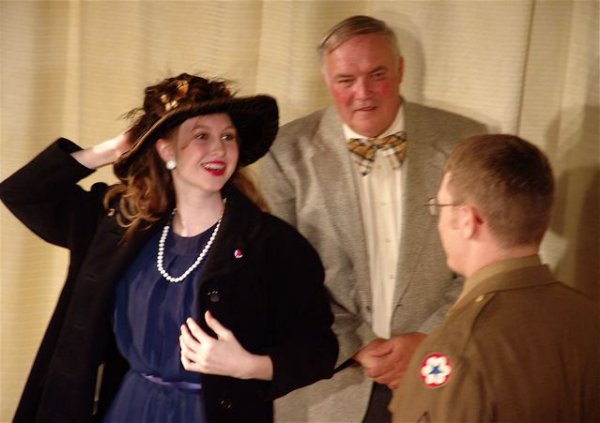 Sometimes romance, even marriage happened through the Canteen!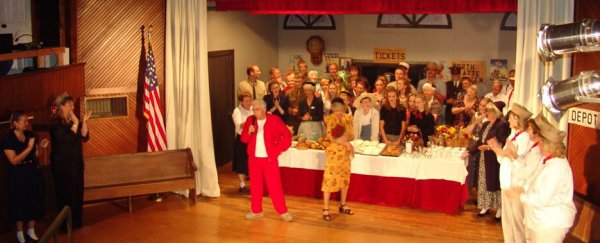 The cast of "Put The Coffee On" presents their director, Diana Taylor, with a dozen roses and a big thank you for a successful play Saturday night. Mrs. Sammy Blender made the presentation.
---