The Hancock-Henderson Quill, Inc.

---
"900 Great Reasons" For Continued Commitment On Hwy 34; West Central Students Present 664 Letters To Lawmakers
BIGGSVILLE - Traffic counts indicate about 10,000 vehicles pass by the north campus of West Central School District 235 on Route 34 in Henderson County each school day, including 17 school buses.
District Superintendent Ralph Grimm estimates that about 900 of his students and staff are among those travelers on the two-lane road.
"I believe that means we have 900 really great reasons to encourage our state legislators to support continued funding for improvements on that highway," said Grimm.
The two-lane road is dangerous, he maintains, as evidenced by two recent accidents involving West Central students, the most recent just earlier this month.
And in May, a 35-year-old woman from Iowa was killed right in front of the high school.
"I stood out on the hill next to the highway that afternoon for more than two hours," recalls Grimm, "and all I could think about was, what if that were one of my students or staff? How could I ever deal with grieving parents and a grieving student body and faculty?
We need to assist the Highway 34 Coalition to keep the pressure on our state and federal legislators for continued funding."
Grimm is using the situation as a teaching opportunity.
"I wanted our students to get involved in something "real life,' and learn how to properly interact with our legislators. I want them to know that they can use their voice to make a difference," he said.
West Central students demonstrated their concern for the issue and their ability to present their views appropriately by organizing a news conference and presenting to legislators 664 letters urging lawmakers to do everything in their power to support continued funding for the expansion of Highway 34 to four lanes from the Carmen Blacktop to Route 67 near Monmouth.
Student Council officers presented the letters to the Illinois legislators in attendance today. Sen. John Sullivan and Rep. Rich Myers accepted the letters from Student Council representatives Miriam Ruthzen and Julianna Gilliam.
"Our goal is to show people that the West Central students are concerned about this issue, and that they want to keep the expansion of this highway in the forefront of our elected leaders' agendas," said Grimm.
"It is critical that funding for this project be continued into their future."
According to Grimm, Illinois has not passed a capital spending bill since 1998, and that bill called for $12 billion.
Currently, Illinois is in line to receive $6.2 billion in federal matching highway dollars, if Illinois allocates approximately $1.2 billion.
But the current FY 08 state budget is without such capital spending, leaving the federal monies in question.
"Nobody wants a student to be killed on this highway, and our students have found a way to make sure their legislators know that they understand just how important the funding for this project really is," said Grimm.
"It's more than just another request for money; it's a matter of life and death."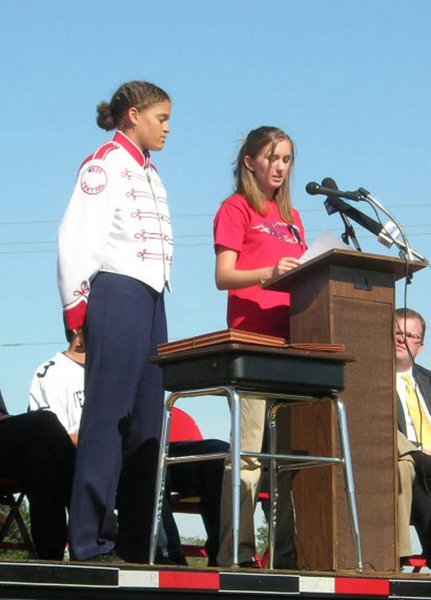 West Central High School students Miriam Ruthzen and Juliana Gilliam, members of the Student Council, presented 664 student letters to State Rep. Rich Myers and State Sen. John Sullivan in support of continued funding for four-laning U.S. Highway 34 between Monmouth and Burlington. The letters were presented to the state legislators during a large news conference held in front of the high school Friday, only 100 yards from the site of a fatal accident last May that claimed the life of a 35-year-old Iowa woman.
State Rep. Rich Myers, left, and State Sen. John Sullivan both addressed the large crowd gathered in Biggsville Friday for a news conference called by students in the West Central School District. The students presented 664 letters to the legislators, encouraging continued work on Highway 34.
Also speaking at the news conference was Andrew Pregel, a West Central student who was injured recently in an accident of Route 34, and The Rev. Richard Johnson, one of the first EMTs on the scene of a fatal accident in front of the school last May. Both Myers and Sullivan pledged to continue fighting for funding for Route 34. Superintendent Ralph Grimm is at right.
---